Art Exhibitions To View Over The Holidays
As the year comes to an end, the art agenda shows no signs of slowing down. The Latitudes team has rounded up what shows to see these holidays.
Be sure to check gallery opening times before you head out.
------------------------------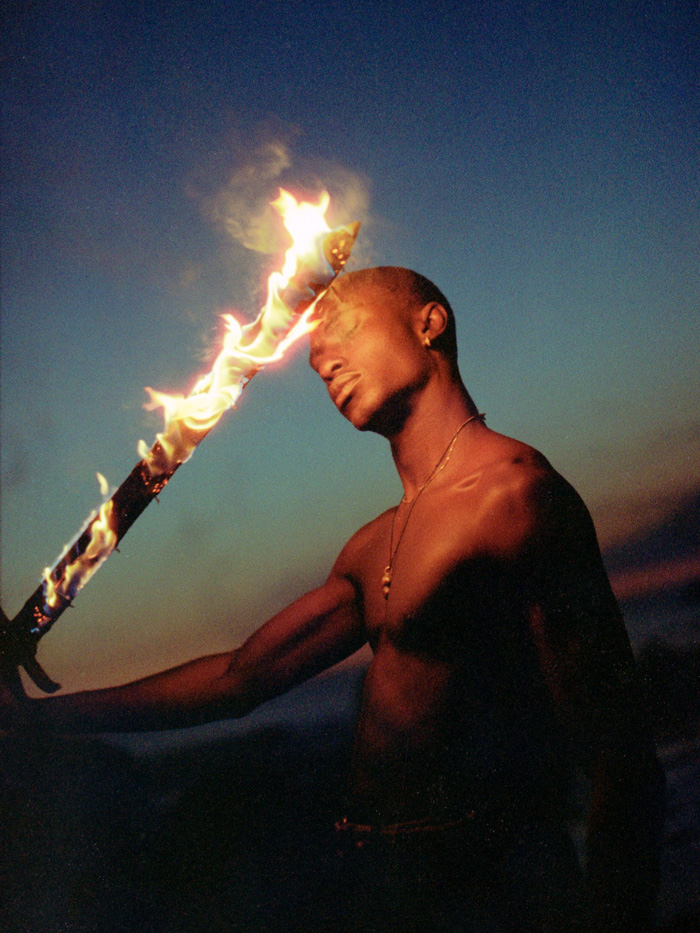 Alexander Kibble, Gyata, 2020. R 5,600.00 ex. vat. Presented by Eclectica Contemporary. 

KZN:
KZNSA Gallery
BUZZART21 - CARE
3 December 2021 - 16 January 2022
As the world seeks to heal from the trauma of Covid-19, it has never been more  important that we care for ourselves, each other, our communities and our planet.  KZNSA's annual BUZZART exhibition is themed CARE and explores this by inviting proposals for the widest interpretation of this theme as we enter a season of gifting, generosity and support of local livelihoods. It has been a time of great uncertainty for local design and craft practitioners and the festive season is a chance to recover and rebuild. BUZZART is KZN's biggest local-only Christmas fair.
In conjunction with BUZZART21, the annual KZNSA Members' Exhibition will be on show. Reflecting on the theme of CARE, the exhibition visually explores  considerations of consciousness, mindfulness and empathy as we take pause to  reflect on the pandemic and our 'new normal'.
For more information, click here.
Cape Town:
Conrad Botes, The Heretic Manifesto, 2021. 
131 A Gallery
The Anatomy Lesson - Conrad Botes 
7 December 2021 - 21 January 2022
131 A Gallery is pleased to present 'The Anatomy Lesson' a solo exhibition of paintings, photo drawings, silkscreen prints and sculpture by acclaimed South African artist Conrad Botes. This is his first solo exhibition at 131 and 21st solo overall in his career. The online exhibition will be live on our site from the 7th of December until the 21st of January and the works will be up at the gallery from Saturday the 11th of December.
Images of dead bodies have been used throughout history as a tool for political and religious propaganda. Starting from the time of the Roman crucifixions, and placed in popular culture throughout modern history and more recently in an impactful experience that the artist recalls from the late 80s in South Africa where fallen MK (Mkhonto weSizwe) soldiers were prominently displayed on the Apartheid government news. Throughout the last two decades, Conrad Botes has been recording many of these images by means of sketchbook drawings in an attempt to gather evidence and material for this ongoing study of state-sanctioned shock-imagery used in the mainstream media throughout the ages.
For more information, click here.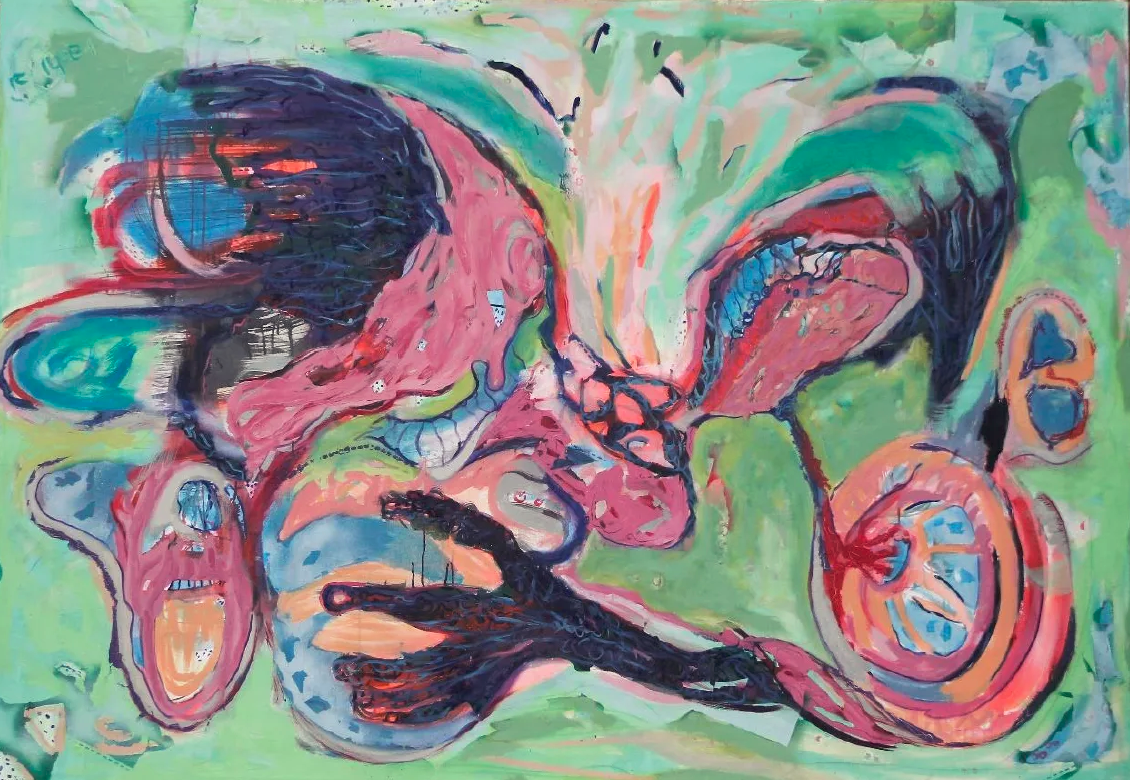 Tashinga Majiri, Maoko neShanduko (Hands of Change) 2, 2021
THK Gallery 
Embodied Cognition - Tashinga Majiri, Nyasha Marovatsanga, Lulama Wolf 
4 November 2021 - 31 December 2021
The artists in 'Embodied Cognition' possess a unique visual language. Bypassing the linear, they use ambiguity and suggestion to create new metaphors and ways of seeing. They draw on a complex network of association – here a colour, there a familiar shape – to appeal to the subconscious, with layered and intuitive references.
For more information, click here.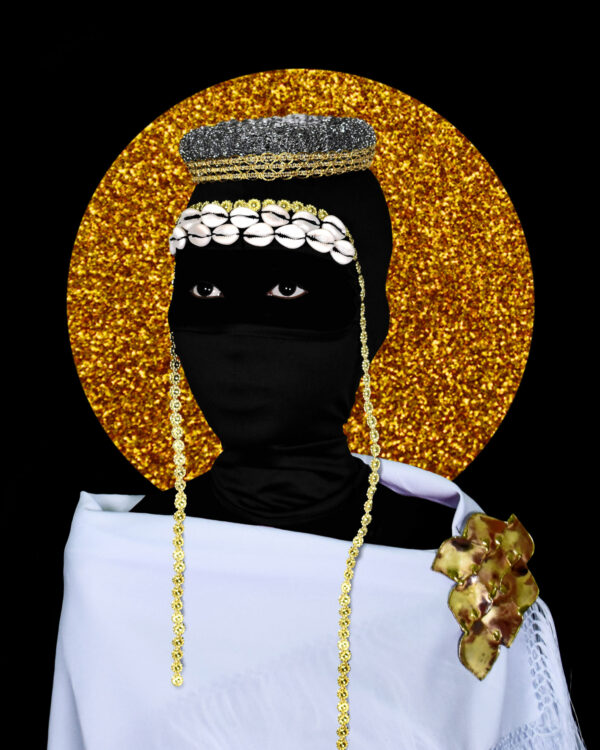 LegakwanaLeo Makgekgenene, Mokapelo Portrait, 2021.
Eclectica Contemporary
Truth Be Told 
2 December 2021 - 31 January 2022
Recorded history is foremost the story of conquerors. Real history is something different. We have invited two multidisciplinary African artists, Williams Chechet (Nigeria) and LegakwanaLeo Makgekgenene (Botswana), to investigate narratives and contested African histories through a digital lens.With titles such as Watch The Throne and What is your Dream, Chechet's artworks become sites of disruption and interrogation of historical iconography. Recycling logos, text and images from popular culture, Chechet's images are deliberately taken out of context and overlapped with accessories that invite the viewer to decode and decipher complex colonial histories.
For more information, click here. 
Neue Times
Friends of Friends and Eclectica Gallery presented 'Neue Times', a pop up exhibition in Cape Town on the 2nd of December. Now find all the works on Latitudes.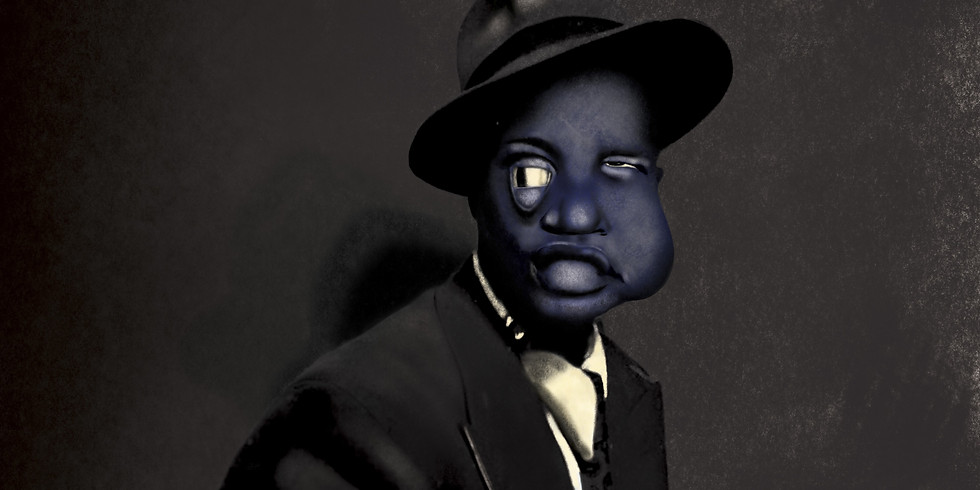 99 Loop
A solo presentation by Mboma 
1 December 2021 - 22 January 2022
Displayed in public for the first time are 'Drum Boys' and 'Pondo', two recent bodies of work by Mboma. In these series of digital works, the artist introduces us to consciousness and introspection of the angst of addiction and the historiography of black South Africa. Mboma's execution of style informs aspects of loneliness, dejection and dream states, calling reference to recognisable iconography from social, literary, and art history.
For more information, click here.
Escape Island Right Now! - Chris Denovan 
1 December 2021 - 22 January 2022
Emerging from the miasma of the pandemic, Chris Denovan invites you to search beyond your isolated cave, where X marks the spot on an imagined map. 'Escape Island Right Now!' acts as a vessel on which the artist asks you to climb aboard and set off on a voyage to a new world, a better world, a fantasy island paradise.
For more information, click here.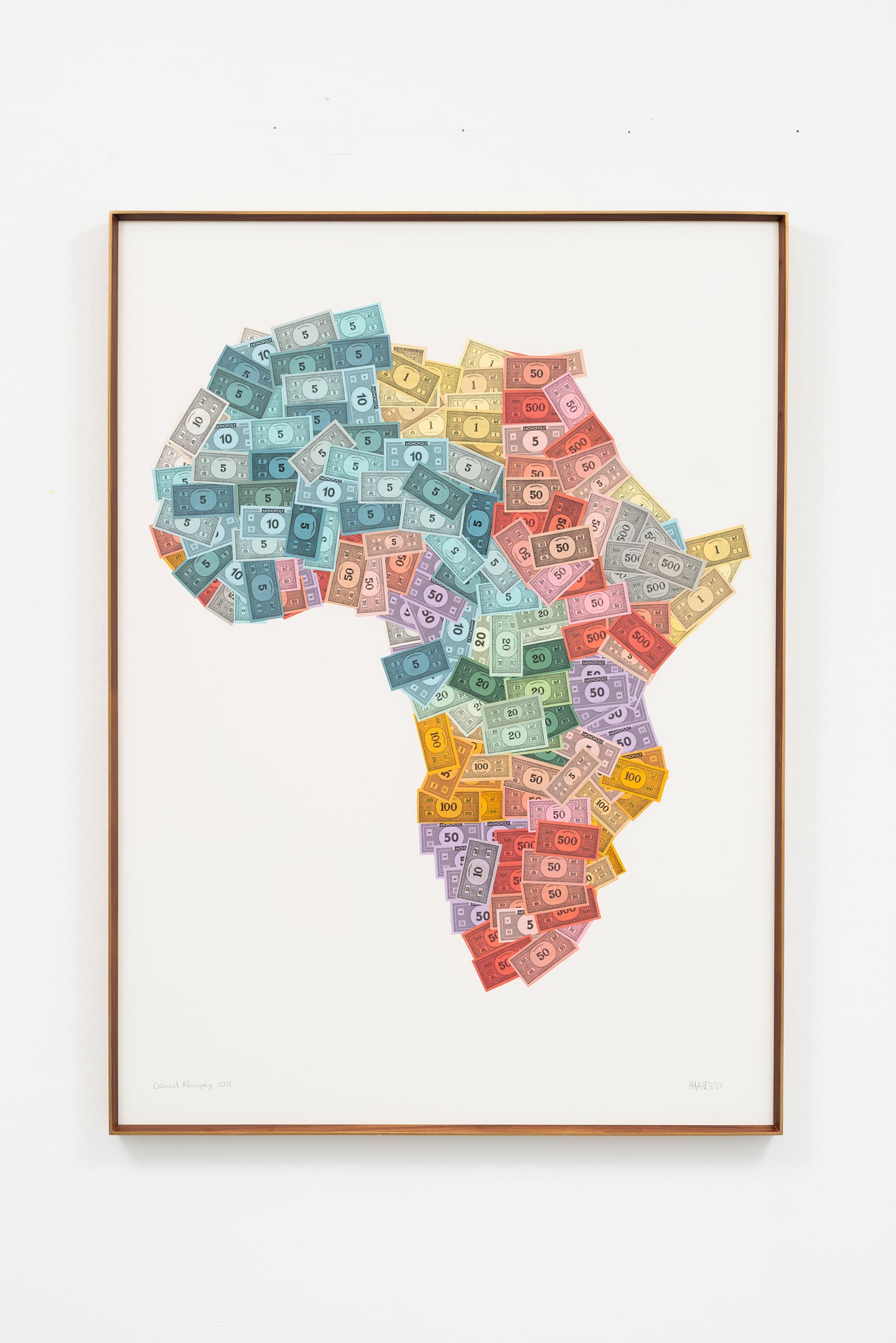 Dan Halter, Colonial Monopoly, 2021.
Whatiftheworld
Get Out of Jail Free - Dan Halter 
8 December 2021 - 22 January 2022
Dan Halter's 'Get Out of Jail Free' in many senses is the documentation of the narratives of colonial and contemporary stories of land dispossession and the lack of consequences for those who now hold monopolies. The exhibition contains multiple voices, interweaving texts, maps, photographs, designs and formats from Monopoly that create a dialogical exposition.
For more information, click here.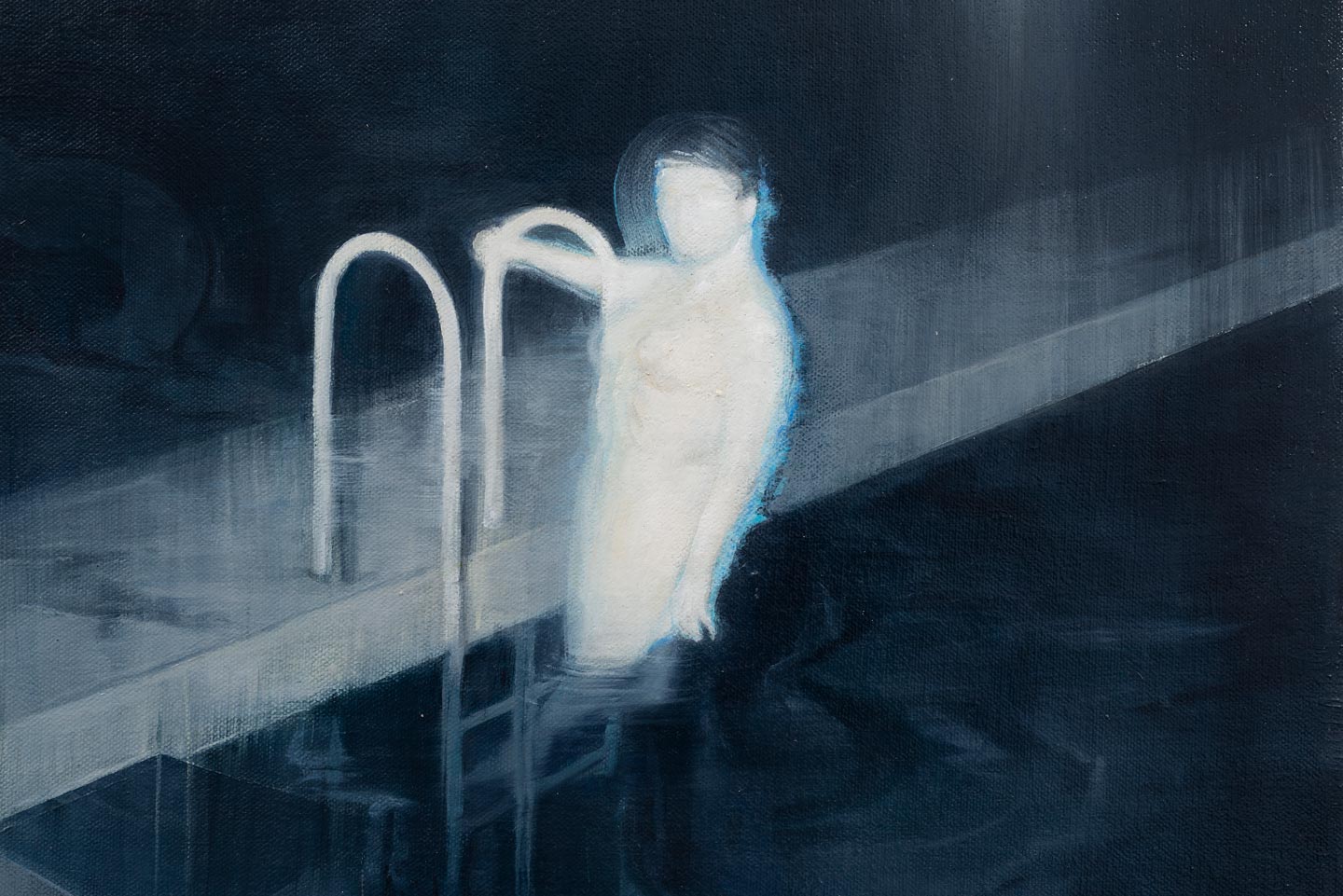 Sanell Aggenbach, The Swan (Detail), 2021. Photograph by Matthew Bradley.
The Great Lulllllll - Sanell Aggenbach
8 December 2021 - 22 January 2022
A suite of eleven paintings, Sanell Aggenbach's The Great Lulllllll extends oblique reflections on the past year's pause. Music lends itself as synonym to both the collected works and their shared title; the staccato 't' of 'great' coming to rest on the closing cadence of 'lull'. Above it, unseen, the eye-like sign that denotes a note held, a rest extended; fermata.
For more information, click here.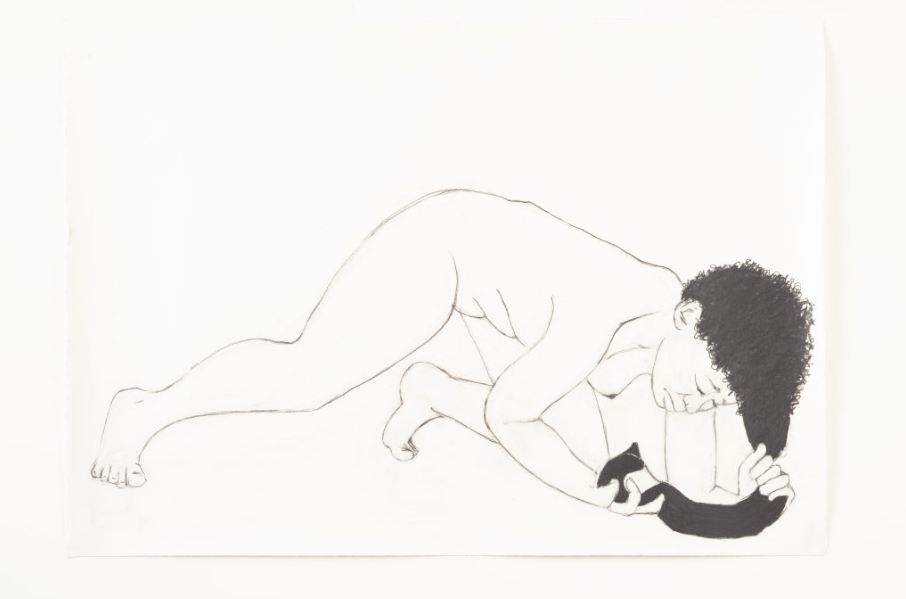 Pamela Phatsimo Sunstrum, Tangle, 2009.
Goodman Gallery
The same space three times
William Kentridge / Kudzanai Chiurai / Gerhard Marx / Grada Kilomba / Nicholas Hlobo / Pamela Phatsimo Sunstrum / Remy Jungerman
18 December 2021 - 26 January 2022
Goodman Gallery is pleased to present The same space three times, a group exhibition that considers the presence of cycles in our natural and constructed environment.
For more information, click here.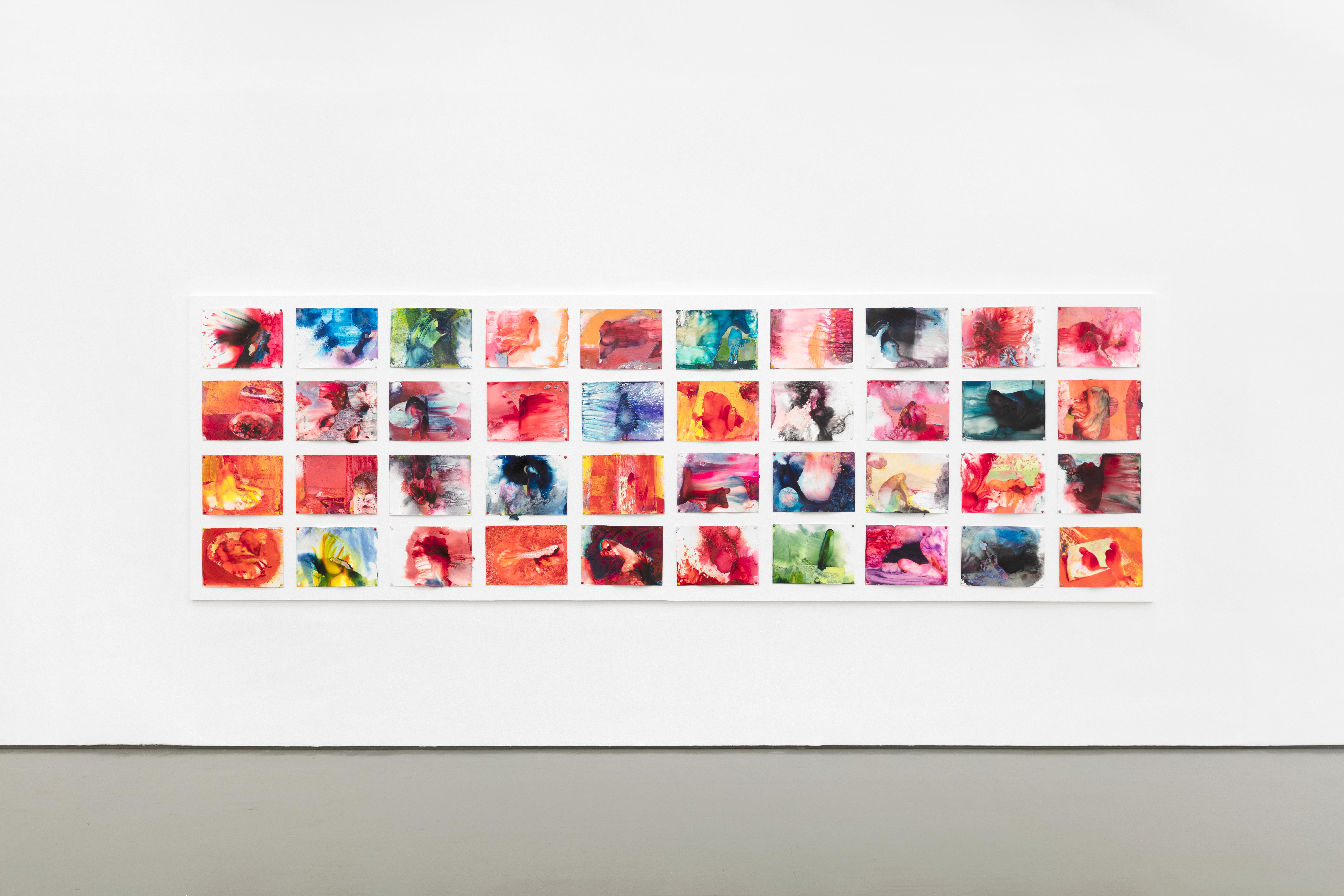 Penny Siopis, Atlas IV. 
STEVENSON
Works on Paper
11 December 2021 - 5 February 2022
STEVENSON is pleased to present Works on Paper, a group exhibition on the latent potential of this versatile material.
Featuring Cian-Yu Bai / Walter Battiss / Zander Blom / Wim Botha / Breyten Breytenbach / Peter Clarke / Salim Currimjee / Rahima Gambo / Jared Ginsburg / Ian Grose / Gabrielle Guy / Dada Khanyisa / Moshekwa Langa / Ernest Mancoba / Neo Matloga / Zhang Meng, Paulo Nazareth / Simphiwe Ndzube / Thenjiwe Niki Nkosi / Fadekemi Ogunsanya / Frida Orupabo / Deborah Poynton / Robin Rhode / Viviane Sassen / Penny Siopis / Portia Zvavahera / Counterspace
For more information, click here.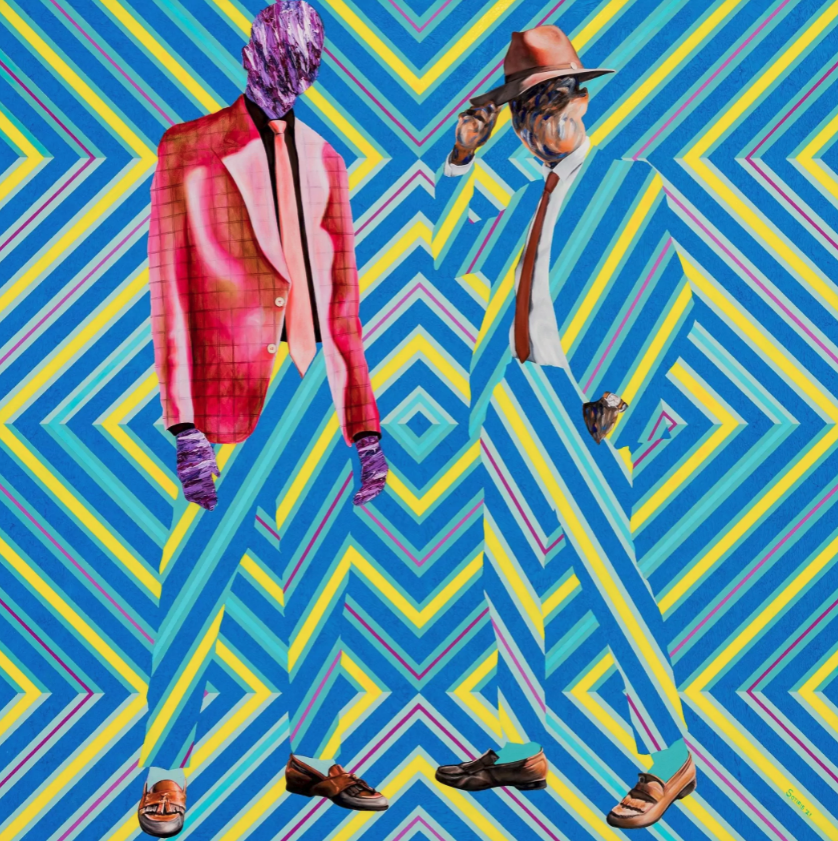 Sotiris Moldovanos, Loafers at the races, 2021.

R 20,869.56

ex. vat. Presented by WorldART. 
WorldART
Sartorial - Sotiris Moldovanos 
9 December 2021 - 19 January 2022
The theme for Sotiris Moldovanos' latest series, 'Sartorial', examines men's style and fashion as experienced on social media platforms curated by digital influencers. Both posts showing personal style and sponsored posts are appropriated directly from its feed, re-worked and presented as an authentic experience. The confusion created by the abstraction and optical illusion presents a reflection of our experience when scrolling through similar feeds on our devices.
For more information, click here.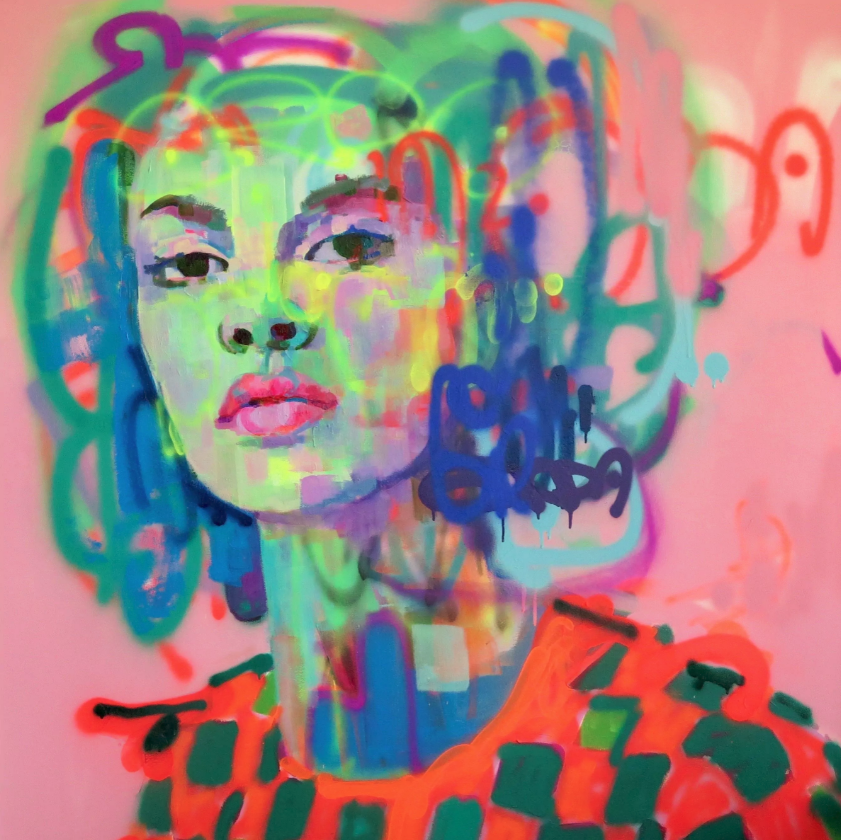 Kilmany-Jo Liversage, Ardora1221, 2021.

R 85,217.39

ex. vat. Presented by WorldART. 
Ferva - Kilmany-Jo Liversage
2 December 2021 - 23 December 2021
Kilmany-Jo Liversage is a fixture on the South African figurative painting scene. With FERVA, her latest solo show with WORLDART, she continues to explore large-scale portraiture and still-life painting in her signature spray paint and acrylic style. The title of this exhibition suggests passion, focus and intensity of feeling.
For more information, click here.
Erin Chaplin, Swimming, 2021.
Everard Read 
Oasis: 25th Anniversary Group Exhibition 
3 December 2021 - 31 December 2021
Everard Read Cape Town is proud to celebrate our 25th anniversary in 2021. Our annual summer exhibition for this milestone year will showcase a range of work which represents the gallery's dynamic identity. This includes painting and sculpture from leading contemporary artists, emerging younger creatives, and those sadly no longer with us who were instrumental in the shaping of this gallery.
Titled 'Oasis', the exhibition frames our ambitions and intentions for our gallery, namely to be an oasis in many senses – a sanctuary, as well as a confluence; a meeting place where ideas are shared; a watering hole for thirsty souls; a permanent place for the transitory, and transitory place for the permanent.
For more information, click here. 
Johannesburg: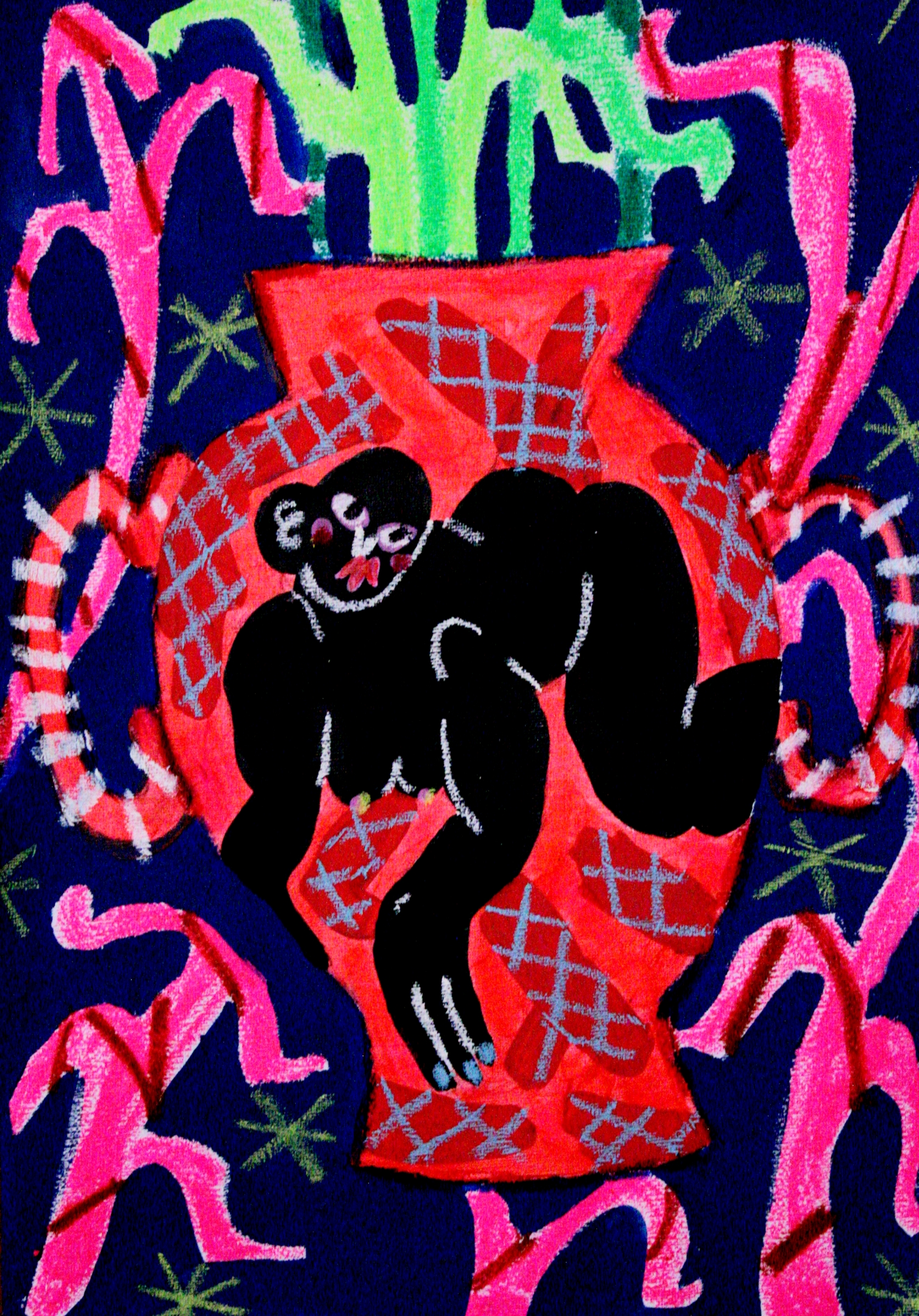 Boemo Diale, Hype Woman on red vase. 
the gallery, 44 Stanley
RE-FORM - curated by Balekane Legoabe 
20 November 2021 - January 2022
Reform refers to the making of changes for the purpose of improvement. To reconstruct a thing from the sum of its parts in order to make it better. To reimagine and restructure.
Artists were invited to produce an artwork in any medium, exploring the notion of reform. The exhibition looks at the ways in which artists whose work overlaps or is integrated into the fields of graphics, animation and design respond to the need or desire for a reconfiguration of the status quo.
The show features a variety of artworks in various mediums, including illustration, painting, photography, 3D animation and printmaking.
For more information: info@theatelier.co.za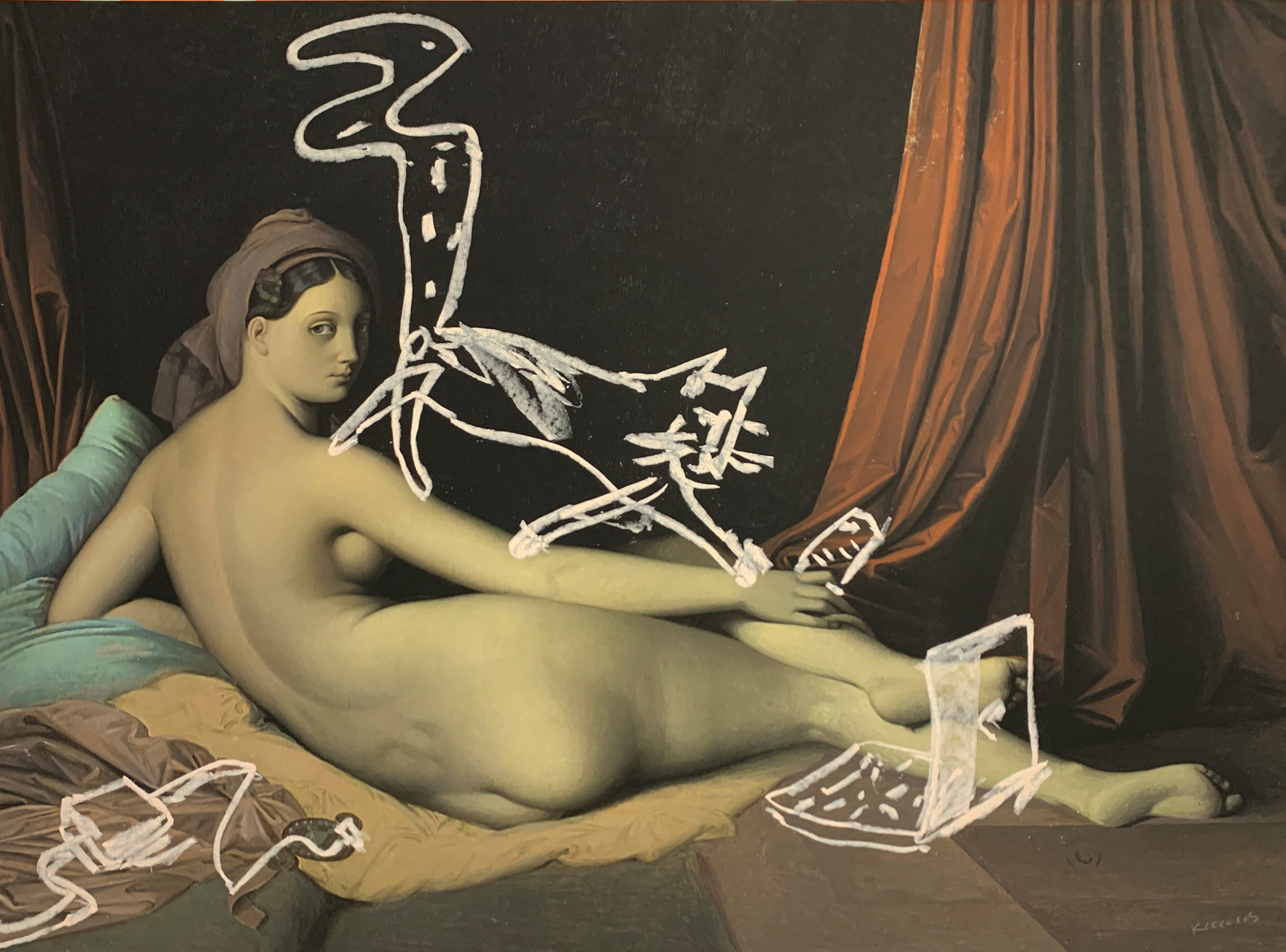 Koooooos, Cat Eye, 2021. 
David Krut Projects 
Creature Feature 
6 November 2021 - 29 January 2022
'Creature Feature' is a group exhibition exploring the human-animal bond, the relationship between humans and other animals throughout history, and celebrating the significance that our beloved pets bring to our lives. The works on show include prints, paintings, drawings, photographs and ceramic works.
For more information, click here.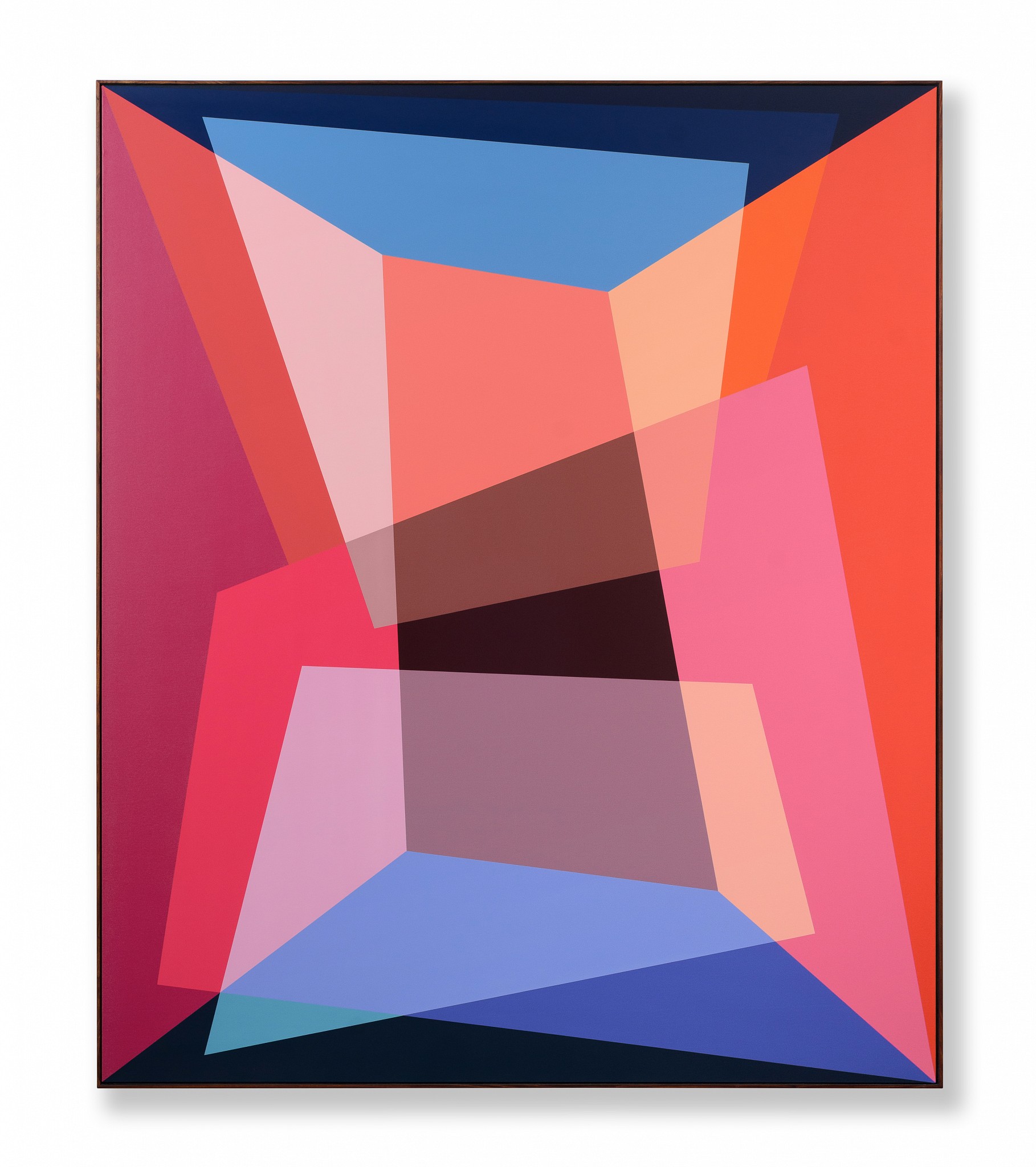 Andrzej Urbanski
Everard Read 
Irregular - Andrzej Urbanksi
18 November 2021 - 22 December 2021
Andrzej Urbanski playfully negotiates perfect applications and concrete designs with a focused ability that manifests fresh and pertinent abstract experimentation. He employs the unconventional spray paint medium in his abstract painting, as it produces flat colour and removes any trace of the 'artist's hand'. Urbanski's authenticity lies in his desire and ambition to secure the perfect surface - one which balances richness of colour and movement of 'frequency' across a two-dimensional language.
For more information, click here.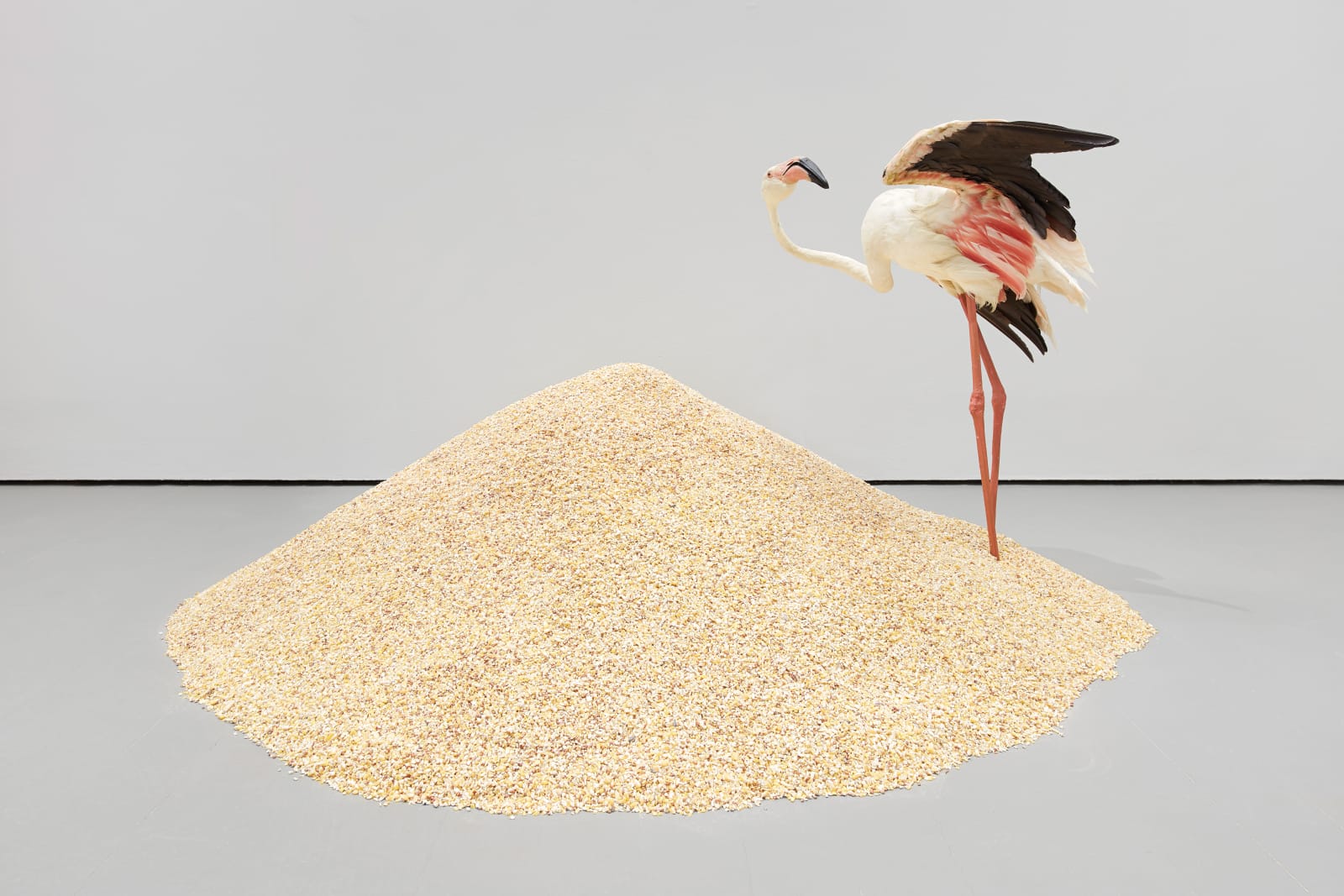 Paulo Nazareth, Intaka Esefestileni, 2021
STEVENSON
INTAKA ENDALA EPHEZU' KOMKHOMBE OMHLOPHE - Paulo Nazareth
27 November 2021 - 28 January 2022
Comprising sculpture, installation, drawing, photography and painting, using both naturally occurring and artificial materials, 'INTAKA ENDALA EPHEZU' KOMKHOMBE OMHLOPHE' spotlights the interplay of paradoxes between the immediate needs of life and the assumed requirements of a modernity governed by global white supremacy. The title of this exhibition translates from isiXhosa as 'an old bird on top of a white rhinoceros', an idiom that speaks about symbiosis, questioning what is perceived as valuable and what is designated parasitic. In exploring this notion Nazareth uses the maize crop as a foundational metaphor.
For more information, click here.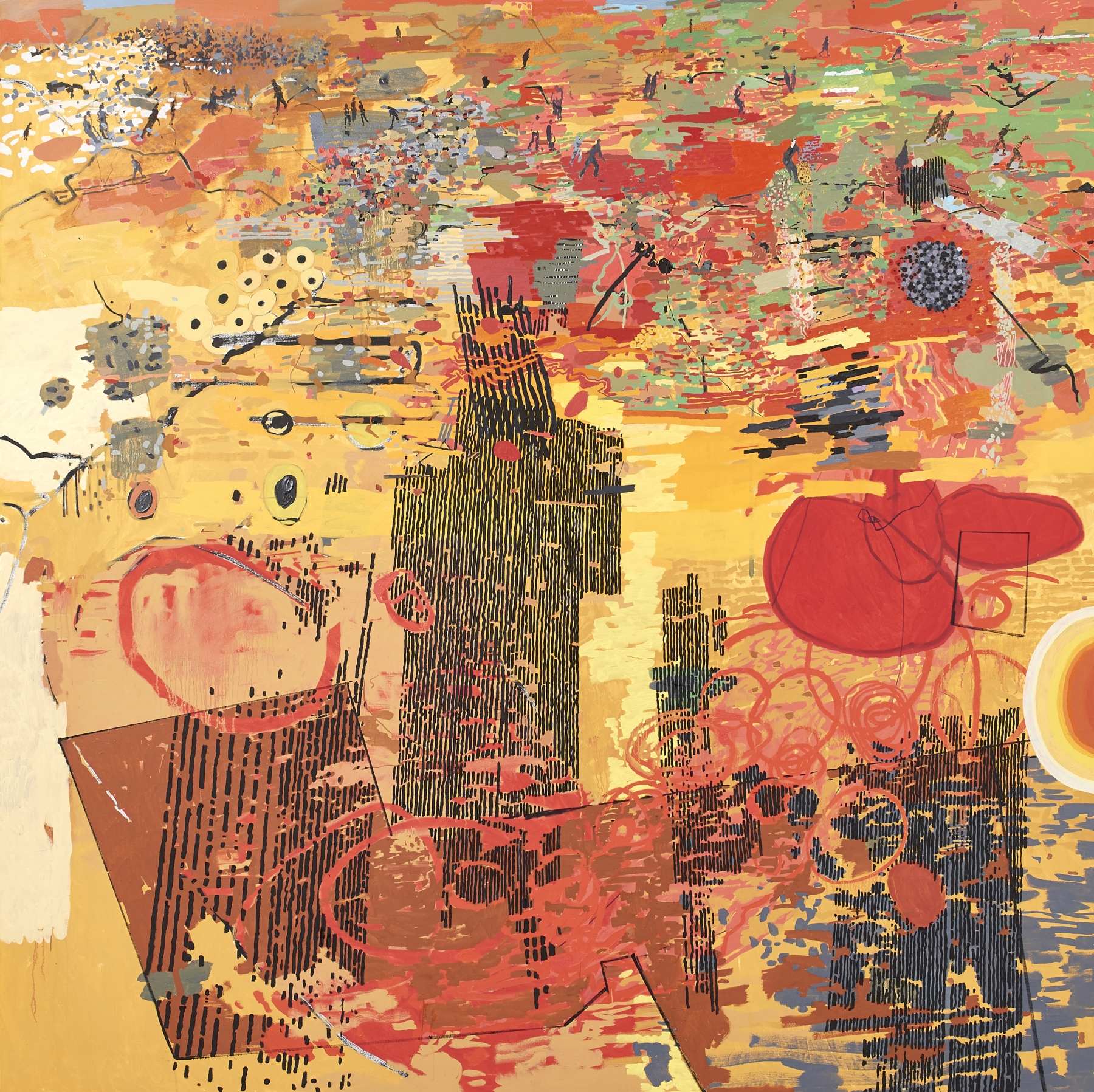 Clive van den Berg, African Landscape V, 2016. 
Goodman Gallery 
Underscape - Clive van den Berg 
20 November 2021 - 15 January 2022
Following Clive Van den Berg's recent survey at the KwaZulu Natal Society of Arts, Goodman Gallery is pleased to present Underscape, a cross-section of paintings by the artist that considers the "distemper" of our lived experience in relation to landscape.
For more information, click here.