Are Africa's best works turning up at Art Basel?
More African galleries and artists are participating in this year's edition of the Swiss fair. Given this art fair is considered the most important on the global art calendar, you would expect the continent's top talent to be presented at it. Indeed Anatsui, Kentridge will be prominent but there are a few surprises. 
----------------------------------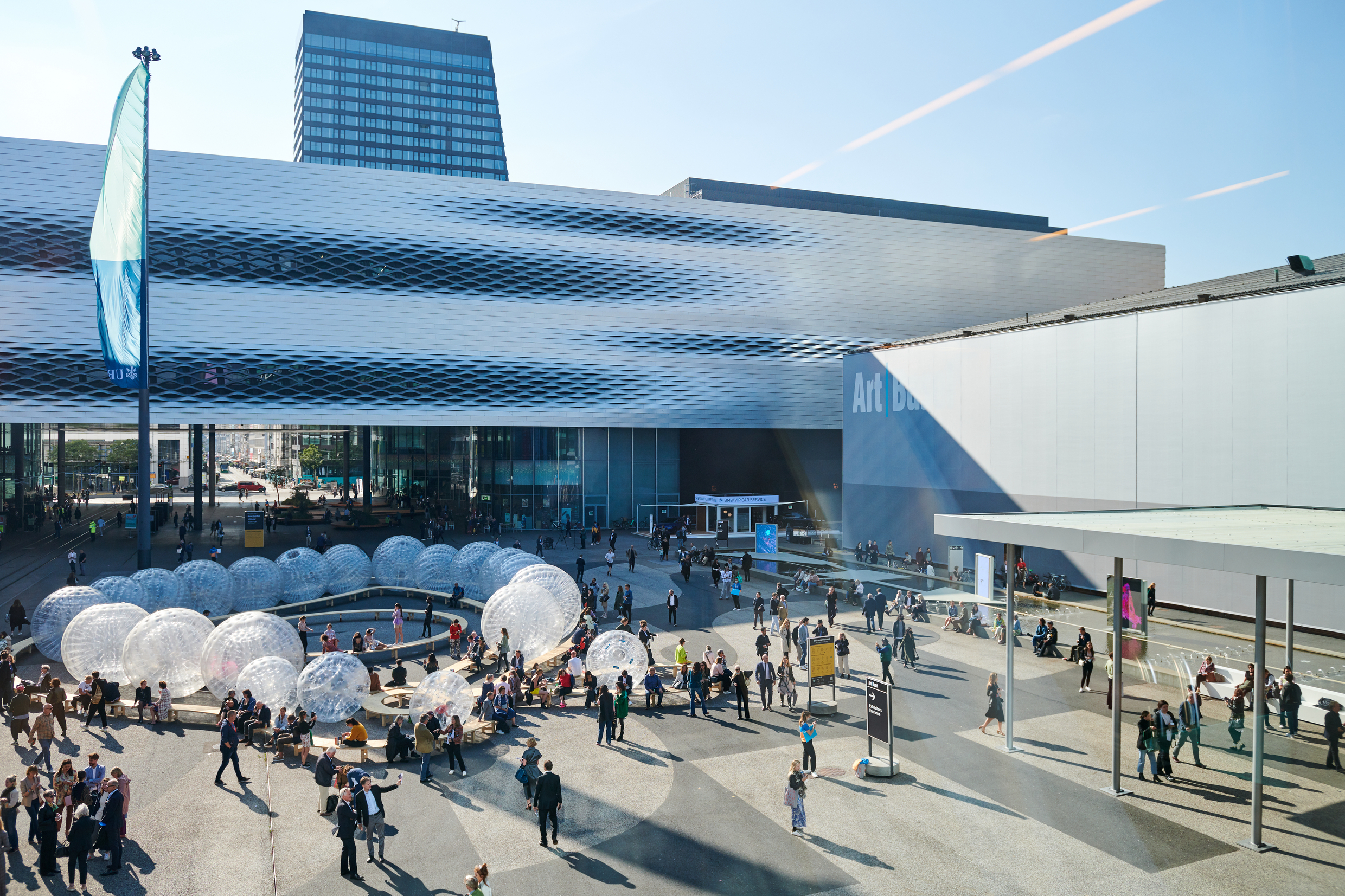 Art Basel has been going for 50 years and is considered the most important fair in the global art world. Image courtesy: Art Basel
Every dealer and artist from Cape Town to Cairo dreams of taking up a booth at Art Basel. It is viewed as the art fair of all art fairs. What makes it such an important one? There are several compelling reasons; such as it has been going for over 50 years, money from around the world is sitting in the banks of that country and it is a trusted branded fair. Art Basel stands for quality. Brands lessen perceived risk. Art Basel could be seen as the Neiman Marcus or Harvey Nichols of art trading. In this domain, the longevity of a gallery and the status of its artists or the value of their work has been relied upon to shore up this brand. As such few African galleries or artists have made in-roads into this annual Swiss fair. 
Changes have been afoot and this year not only are the two top-tier South African galleries – Goodman and Stevenson – and the Egyptian gallery, Gypsum participating but some smaller, less established African galleries such as Oh Gallery from Senegal and Jahmek from Angola. There are also a healthy amount of African artists making solo presentations via European or American galleries. As such would one be amiss to believe that the 'best' artists (defined by the market or institutions) are making it to the world's most important art fair? When you review the artists and works being presented this year, a strange mix emerges, of both the most renowned and strong works, to those that have already been exhibited but haven't found buyers or are looking for new buyers (a fair number of historical works are being offered). This partly suggests that galleries exploit the Art Basel brand to sell works that perhaps might not find buyers elsewhere. 
Nathaniel Mary Quinn, Desert Storm, 2022 © Nathaniel Mary Quinn – Courtesy of the Artist and Almine Rech
Maintaining the Art Basel brand has naturally involved the selection committee being very picky about which galleries can gain entry to the fair – that's if they can afford a booth. In 2019, big galleries paid CHF905 (R14 000) per metre square. However, there has been recognition (from across the industry) that if you have only had the top galleries participating in these high-end fairs there are few surprises or discoveries for visitors and a narrow view of art controlled by a few high-rollers would define what art should be valued. This has also hampered the racial diversity of the art market. As such it appears that Art Basel has been gradually shifting its policies and Covid-19 sped up the process somewhat with more African and or black-owned galleries being included in their online formats. First Floor Gallery Harare from Zimbabwe for example participated in one of Art Basel's 2021 OVRs. Newish black-owned galleries in the US such as Jenkins Johnson – who has been flying an international flag for Blessing Ngobeni - and Mariane Ibrahim Gallery (who participated in FNB Art Joburg years back) have also found a foothold in this Swiss brand. 
So who are these African artists that are considered worth banking on for Art Basel?
The African artists most likely to enjoy the highest visibility will be Basim Magdy (from Egypt) presented by Gypsum, Barthélémy Toguo (Cameroon) presented by Galerie Lelong and Outtara Watts (Ivory Coast) presented by Almine Rech. They are accommodated in the Unlimited section of the fair, which consists of solo booths dedicated to some of the world's greatest contemporary artists – Keith Haring, Jenny Holzer, Theaster Gates, Francis Alÿs, Gerhard Richter and Lorna Simpson. In other words, just occupying space in this hall lends credibility to the art.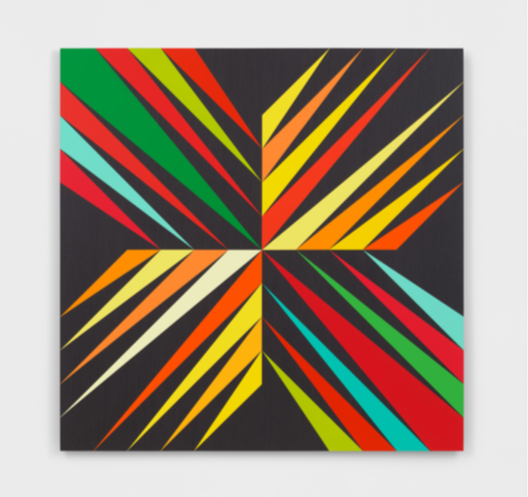 Odili Donald Odita, Burning Cross (2022) Acrylic latex paint on aluminium-core fabricated wood panel. Image courtesy Jack Shainman
Toguo enjoys market and institutional validation so it is not unexpected to see this Cameroonian artist take up such a visible space at this fair. However, his wispy ink paintings are more highly prized than the series going on display - 50 zingana wood bas-reliefs that "pay homage to the African custom of creating wooden sculptures to commemorate kings and warriors". The same series showed at Stevenson Gallery in Cape Town in 2020, so there is a sense that the works weren't that well received on the African continent and the gallery is hoping to find buyers at Basel. Magdy's installation of 64 works should make an impact. Cumulatively they make up a visual narrative channelled through words and images in the satirically titled An Apology to a Love Story that Crashed into a Whale. Love seems impossible in a socio-political atmosphere characterised by terror and war, which is alluded to in the statements. 
Other artists taking up solo booths - in another section titled Statements, geared for 'emerging' galleries – are Ahmed Morsi (Egypt), presented by Gypsum, who is showing a collection of brightly coloured surreal works from the mid-80s, Aliou Diack's works will fill up Oh Gallery's booth and Helena Uambembe will do so for Jahmek gallery. 
Some European-based galleries in this section are also presenting African artists such as Jan Kaps gallery from Cologne, Germany which have a stand dedicated to Kresiah Mukwazhi. This rising Zimbabwean artist is perhaps fairly young and new to be taking up a solo exhibition at such a high-end fair, however, her recent solo exhibition, Zviratidzo, at Blank Projects in Cape Town signalled that her practice is evolving into a more refined and unique language – a kind of blending of figurative and abstract languages with textiles. It will be interesting to see whether she presents works at this fair that continue along this line.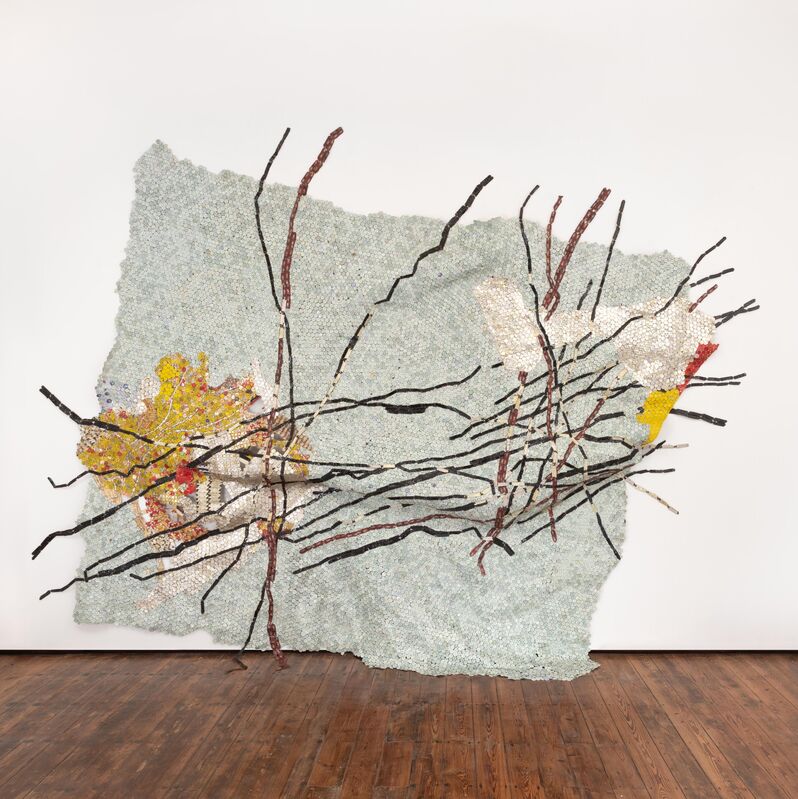 Interventions, 2022, By El Anatsui, aluminium, copper wire and nylon string 400 x 400 cm / 158 x 158 in. Image courtesy Goodman Gallery
Most of the galleries presenting works by African or African American artists are located in the second hall – Goodman Gallery, Stevenson, Jack Shainman, Mariane Ibrahim and Galerie Barbara Thumm. 
Characteristically, as they are the biggest African art player, the Goodman will be presenting the priciest of works – a new El Anatsui – Interventions (2022) - a hanging piece made from aluminium, copper wire and string that is priced at $1,8 million (R27-million). As the Ghanaian artist's works fetch the highest auction prices you would expect this to be the case. Jack Shainman gallery from the US is also presenting a work by Anatsui - Sechra (2014).
New works by Anatsui were presented at Goodman in Cape Town last month, could any local buyers afford the works? Basel might be a place for galleries to sell their highest-valued works. Goodman is naturally also presenting a slew of Kentridge works – a drawing and some bronze works. 
A photographic series by the Moroccan artist Yto Barrada titled Plumber Assemblage, exhibited at their Johannesburg gallery has also unexpectedly washed up at Basel. In some ways, it is rewarding to know that African audiences get to view works before they go to Basel.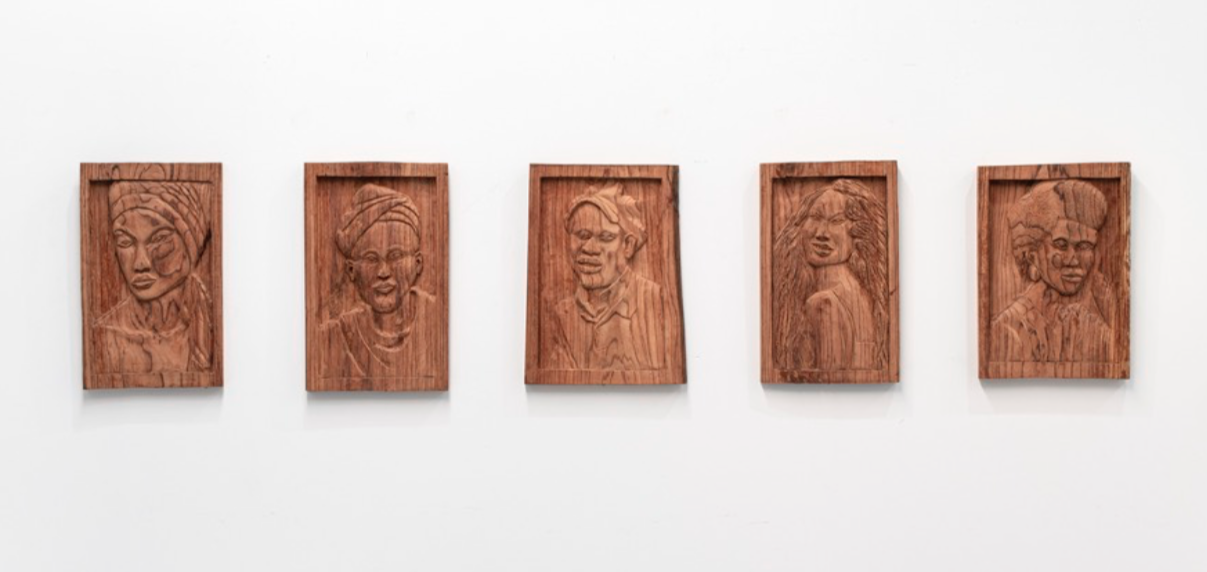 Barthélémy Toguo, Bilongue, Zingana wood Various dimensions, Courtesy Bandjoun Station and Galerie Lelong & Co. 
An interesting mix of historical works by South African artists will also be shown in Basel. Goodman is showing an unusual photograph by David Goldblatt, Roasting yellow mielies, West St, Johannesburg, 1964, which looks like an abstract composition until you make out the titular mielies being roasted among metal drums and other urban detritus. An abstract painting, Senegal III, by Sam Nhlengethwa executed in 1995 will also be offered by Goodman. Given his collage works are more prized at auction, this is unexpected. Perhaps what is more prized in Africa has less value in Basel. It is an interesting question to consider.
Stevenson is also bringing several historical works to Basel by South African artists such as Peter Clarke, Jane Alexander, Moshekwa Langa and Ernest Mancoba. Odili Donald Odita, the abstract painter appears to be in high demand with both Stevenson and Jack Shainman presenting works by this Nigerian born artist who lives in the US. 
Stevenson gallery might have a smaller stand in a less prominent area of Art Basel but it is likely those with an interest in African contemporary art will make a beeline to their booth given they are offering a work by Portia Zvavahera titled Kudohedzwa kwemazizi (Fallen Owls) which is one of a suite of paintings showing in Cecilia Alemani's Milk of Dreams exhibition at the 59th Venice Biennale. Presumably, it is still hanging in Venice and won't make it to their booth. The Zimbabwean artist has enjoyed a solo exhibition with David Zwirner in New York and is probably the most sought-after African artist right now. So sought-after not a single of her works will make it to Basel. Based on Zwirner's Art Basel preview, the only African artist that mega gallery will be showing is Marlene Dumas.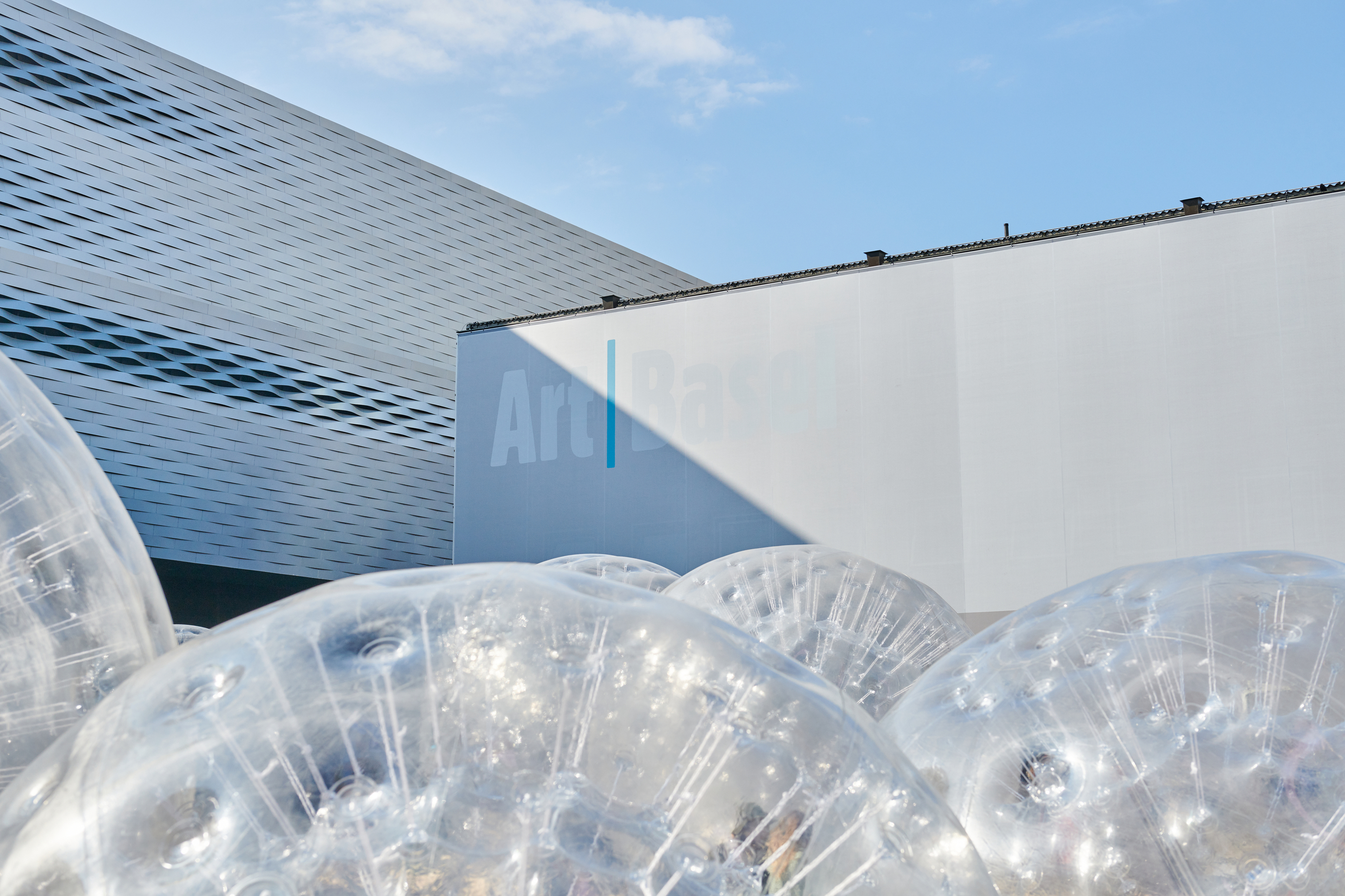 Art Basel has been going for 50 years and is considered the most important fair in the global art world. Image courtesy: Art Basel
New works by Robin Rhode (Paper Planes), Simphiwe Ndzube and Serge Alain Nitegeka (Displaced Peoples in Situ: Studio study IV, 2021) and what appears (from PDF previews) to be incredible paintings by Penny Siopis and Deborah Poynton is likely to ensure that the Stevenson booth is the most representative of Africa's most prized artists – not only by the market but institutionally as well. 
- Mary Corrigall is a Cape Town-based art commentator, advisor and independent researcher