An exciting crop of young artists is rewriting the exhibition rulebook
- By Sean O'Toole
------------------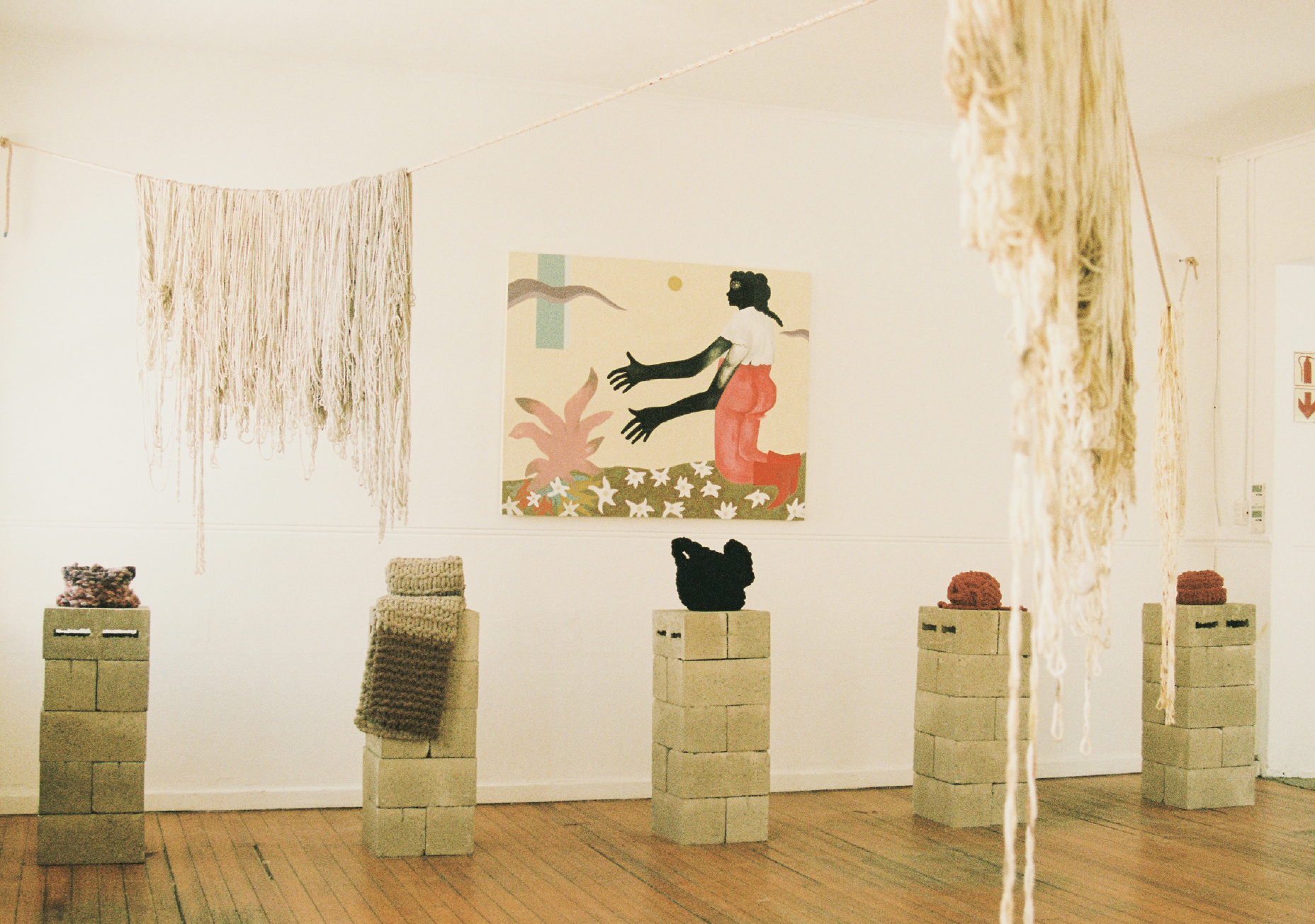 FEDE Arthouse, Installation view of works by Reef Sithole's and Keith Virgo, BROWSE THE SHOW
Something happened in the South African art world during the enforced slowness of the recent pandemic. Frustrated by the staid and settled business rituals of life pre-2020, formalities that did more to exclude than welcome new artists and audiences, a cohort of younger artists and curators, many acting with a network of allies, decided to rethink the rules of the game. In the process, many artists have discovered their agency and right to play. Emboldened by the experience, some have even started their own galleries.
If none of this makes sense, here is a brief recap of what's been happening outside the formal gallery system. Over the last few years, responding to a freeze in travel and trade during the Covid-19 pandemic, artists came up with DIY solutions for showing and selling their work. One widely discussed shift involved the phenomenon of artists trading through digital channels like Instagram. Cape Town painter Gitte Maria Möller's sizable army of followers and international buyers was cultivated on social media during the pandemic years.
But Instagram is the least interesting expression of the new zeitgeist, particularly in South Africa, where commercial representation is bound up in time-worn protocols and biases. Channelling the spirit of painter John Koenakeefe Mohl, a founding member in 1960 of the Artists Under the Sun exhibitions, younger artists have over the past few years presented pop-up selling exhibitions in rented spaces (among them Lebo Kekana, Anna van der Ploeg and Sivan Zeffertt) or even in their own homes (Dominic Pretorius).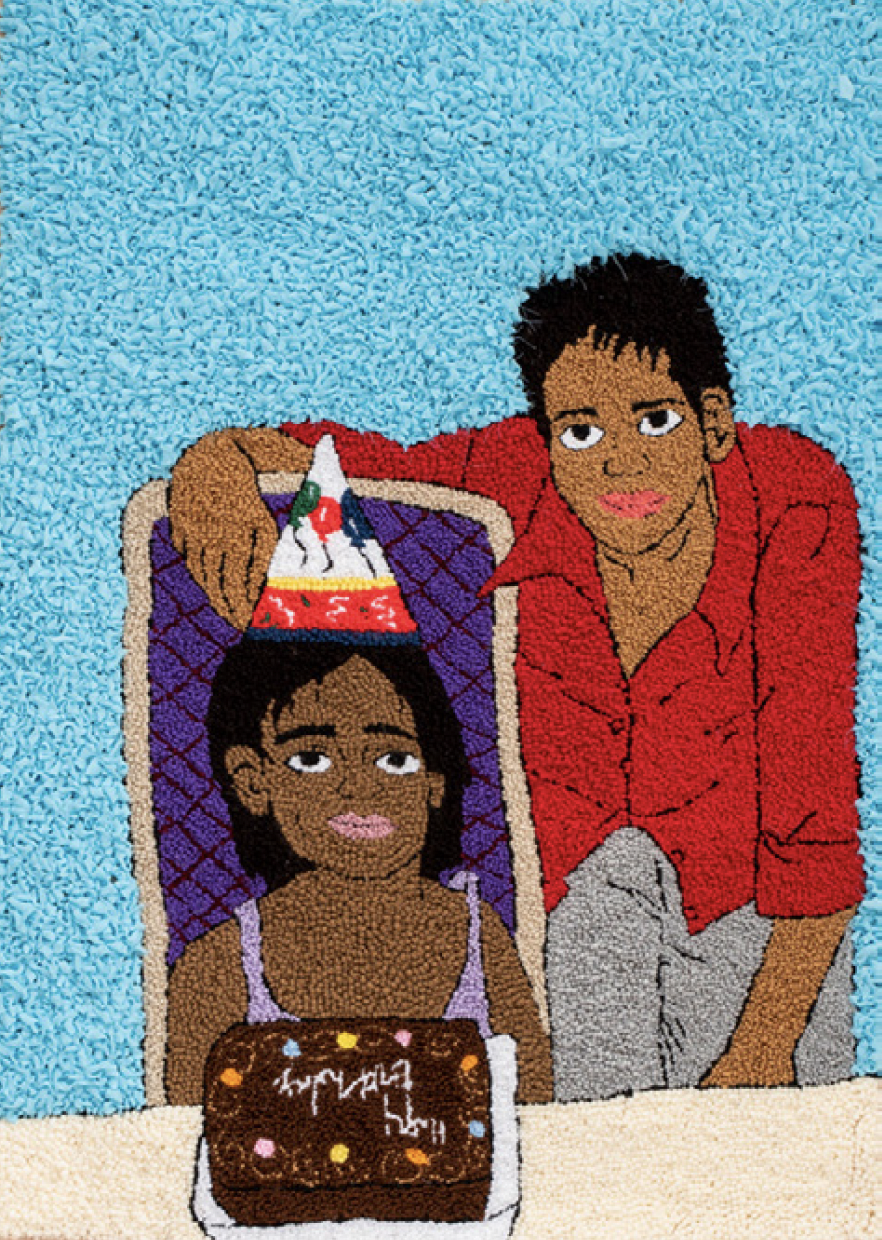 Talia Ramkilawan, "An Ode Not to her, but to me", 2020, Wool and cloth on hessian, R73 000.00 ex. VAT, CONTACT TO BUY
In early 2022, making use of the abundant empty retail space left in the wake of the pandemic, Cape Town artist Brett Seiler and a group of friends staged a series of one-day exhibitions at the corner of Buitenkant and Roeland Streets. One of these, Hellmouth, curated by Seiler and Max T. Law, included the launch of a snarky 'zine. It featured writings by artists Oskar Keogh, Thulile Gamedze and Mitchell Gilbert Messina.
Cause and effect are important drivers of innovation in the art world. Messina and Seiler would later come together, with fellow artists Luca Evans and Guy Simpson, to found Under Projects. Located around the corner from Seiler's earlier exercise with flash-mob curating, Under Projects has hosted a series of innovative exhibitions. Their turnaround is tight: shows are only up for a week. The venue's rough and ready approach to showing recalls the punk spirit of Wayne Barker's roaming Famous International Gallery of the early 1990s.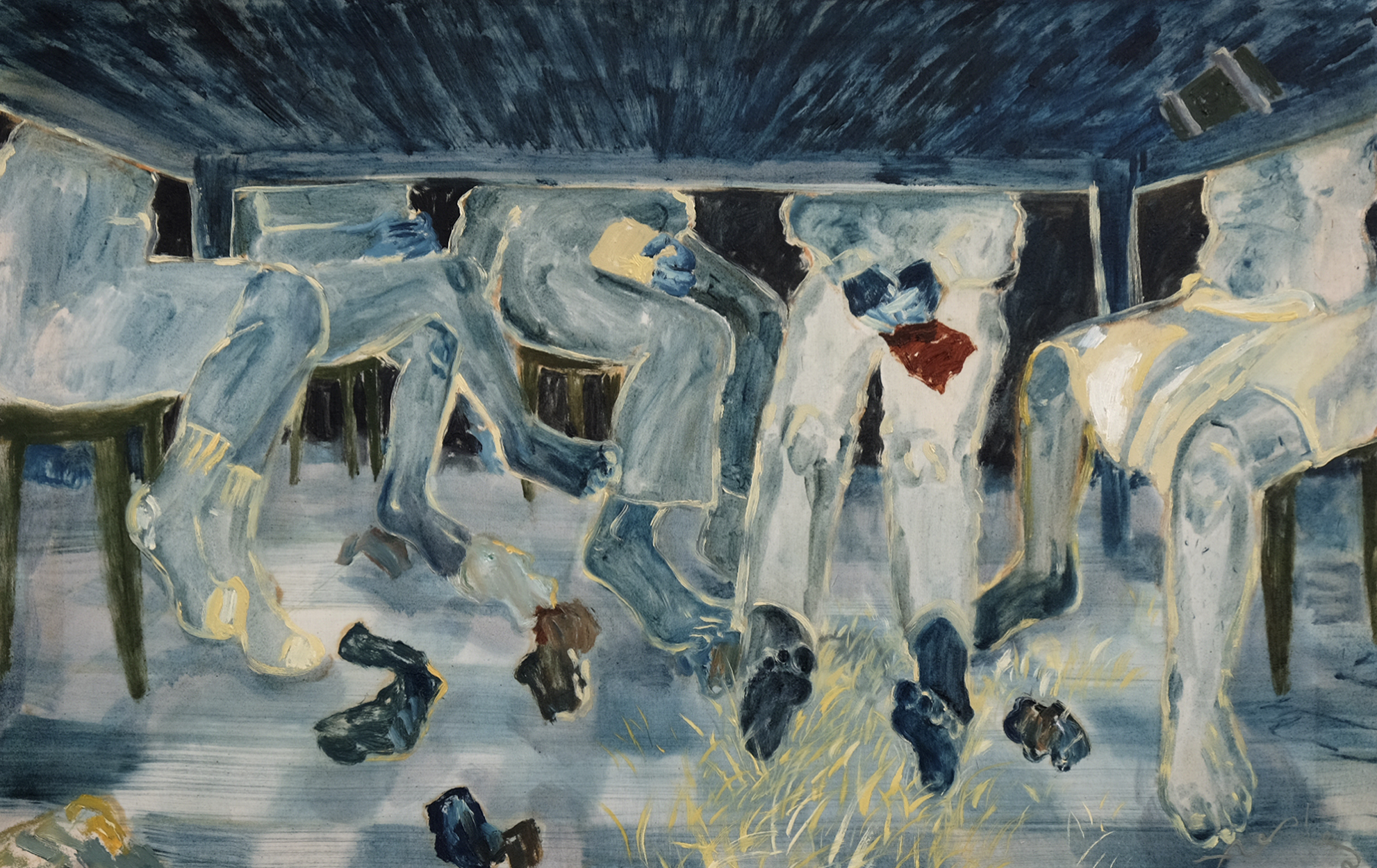 Anna van der Ploeg, Five hours refusing to eat, Oil on cotton, 93 × 60 cm, 2020, courtesy of the artist
Under Projects bills itself as an artist-run project space. For other artists, like Michael Tymbios of Gallery-De-Move-On and Lebo Kekana of FEDE, also Heinrich Groenewald and Shona van der Merwe of Reservoir, friends since their art studies at Stellenbosch University, roaming is preferable to the formality of brass nameplate at a fixed address. Their decision to operate as nomadic enterprises bears pause.
"The first and primary itinerant is the artisan," write Gilles Deleuze and Félix Guattari in Nomadology: The War Machine (1986), a cult book about martial strategies and nomadic practices. "The nomad," they state, "has a territory, he follows customary paths, he goes from one point  to another, he is not ignorant of points (water points, dwelling points, assembly points, etc)."
Fede Arthouse, works by Nkhensani Mkhari, CONTACT TO BUY
The recent Cape Town Art Fair provided an assembly point for South Africa's artist-run and nomadic galleries. Under Projects, Gallery-De-Move-On and Reservoir all had booths at the fair. Gallery-De-Move-On's decision to pay and play owed a great deal to the lack of traffic at their pop-up show at an address nearby the fair in 2022. Under Projects used their space to present a display of completed projects. Reservoir, which has previously collaborated with Whatiftheworld and THK galleries on selling group shows, cemented its status as an alt-dealership to watch with fine works by Bella Knemeyer, Dale Lawrence and Anna van der Ploeg.
Identifying and naming the emergent phenomenon of placeless art platforms and galleries without walls, while important, tends to minimize the very real frustrations that led to their  emergence. Writing on Instagram in December 2020, artist Lebo Kekana, founder of FEDE and collaborator with Jeanne Gaigher on a work at the recent Cape Town Art Fair, stated: "Art is the birthplace of innovation and creativity. It's with this sentiment that a need arose to provide consumers and overall art enthusiasts with the opportunity to consume art in a space that deviates from the traditional template of four white walls."
Brett Seiler's 'Reading list, 2019' rendered using pine, canvas, Belgian linen, roof paint and bitumen, courtesy Everard Read
Kekana, who is in his early twenties and makes figurative paintings depicting love and estrangement set along the Cape's shoreline, started FEDE because of an age-old frustration. "I really wanted to get into the art scene in Cape Town, but I wasn't very familiar with the channels or which doors to knock on," he said in an interview last year.  Rather than nurture resentment at the art world's strange codes and habits, FEDE set out to show artists they liked in a way they liked. Their recent curated exhibition, Process, included work by Andile Dyalvane, Tony Gum and Nkhensani Mkhari, as well as an artists' luncheon.
Hospitality is a sentiment shared by artist Daniel Bruce Gray and scholar Amie Soudien. In October 2021, Gray and Soudien launched 1004 in their Johannesburg apartment with a solo exhibition by Kaelo Molefe. "In figuring out how to realise the apartment as a project space, we were excited about the untapped flexibility of the domestic space that is, for those hours, transformed by the people inhabiting it. We wanted to create an approximate feeling of familiarity and warmth with 1004, particularly in an art world that rarely feels hospitable."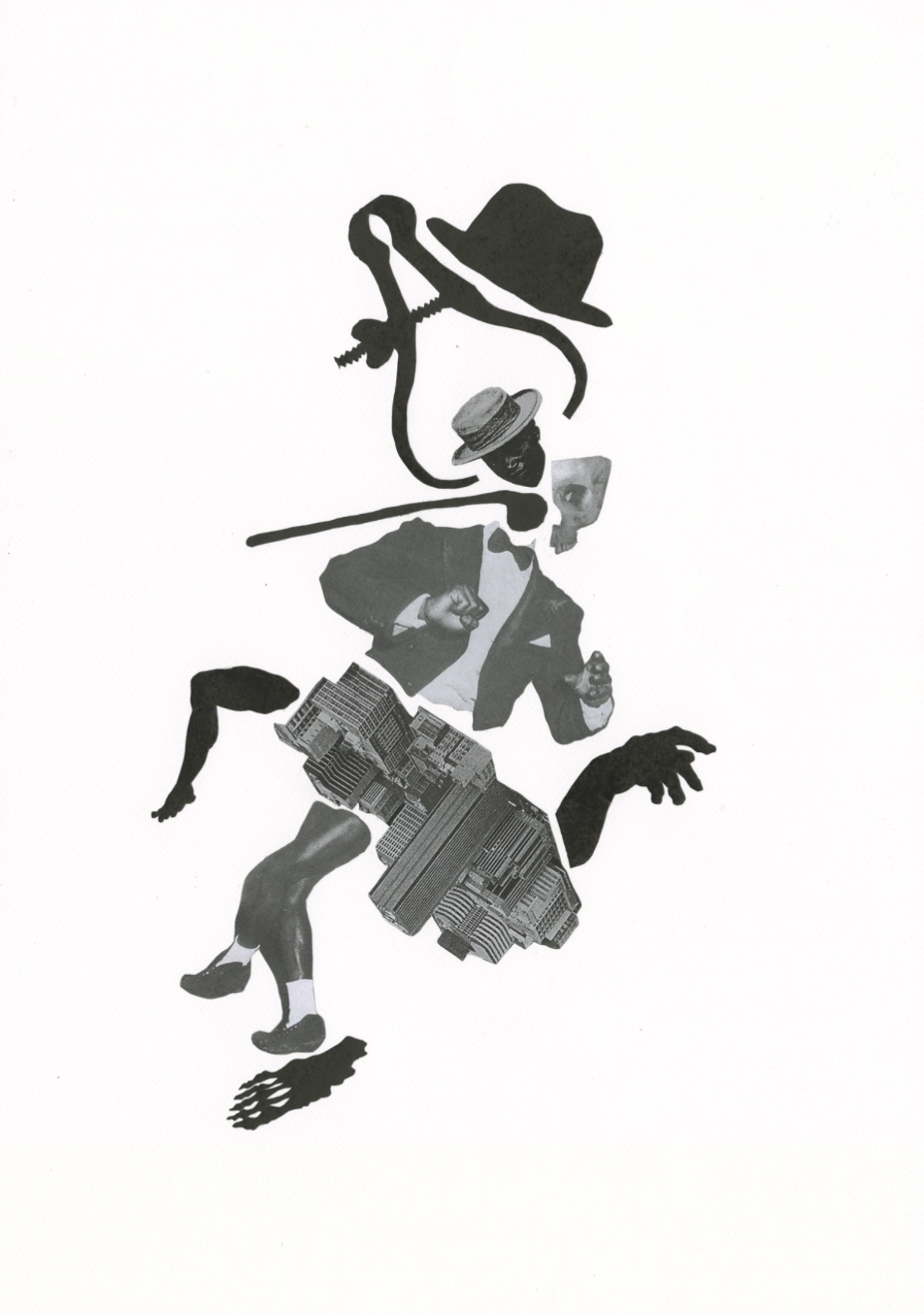 Kaelo Molefe,The Dandy, 2021, paper collage on fabriano
Soudien wrote these words for wherewithall, a roving live and digital platform birthed during the pandemic. Co-founded and run by artists Kundai Moyo and Chloë Reid and curator Amy Watson, it provides a network for ideas and tools to realise exhibitions. Reid's frustrations with making independent exhibitions in Johannesburg after settling there in 2019 was one catalyst for the project.
In a truer telling of the rise of DIY exhibiting and dealing, the pandemic was less the cause than a catalyst of change. It has always been tough forging a path as an independent artist and curator in South Africa. Being a nomad is a tactic of survival. Hustle, wherever and however, is central to being seen and heard, to growing new audiences, ultimately, to claiming one's right to determine art's future.