All That She Carried is a large-scale exhibition at Latitudes Centre for the Arts (LCA) in celebration of Women's Month.
The group exhibition borrows its name from the title of Tiya Alicia Miles's New York Times bestseller. The African American historian "traces the life of a single object handed down through three generations of Black women to craft a testament to people who are left out of the archives." It creates a perfect springboard into an exploration of the current status quo (the emotional, mental and physical tolls and/or tools) of women artists working and living in South Africa.
Exhibition is on from 18 Aug - 23 Sept 2023 
Opening times are weekdays 10am - 4pm. Click here to book a viewing appointment.
The exhibition explores two core themes:
Women in Progress
In a world hyper-focused on the idea of completeness, All That She Carried is a timely visual pause through the transitional phases of South African women manoeuvering through the complexities of womanhood.
The exhibition positions itself as a careful unraveling, layer by layer, of the ways in which women intuitively question who they are and what they are becoming by embracing the 'work in progress' - the silent moments of imperfection and incompletion that are necessary ground for revelations and rebirth.
The monolithic stereotype of women as "ever complete" is limiting in that it doesn't account for the varying stages women often undergo to become better versions of themselves. It assumes an arrival, rarely questioning the journey.
Women in Motion
The journey is particularly important when reviewing the archive and the lack of representation of women in the historical art canon. This rings particularly true for Black women artists and women artists of colour who have borne, and continue to bear, the brunt of racism, sexism and, in some cases, homophobia.
In essence, the exhibition pays homage to the figurative and literal tools at women's disposal that have shaped who they are and hold space for all that they carry. All That She Carried is about the struggle of holding on to parts of our history or ourselves while progressing forward in self discovery.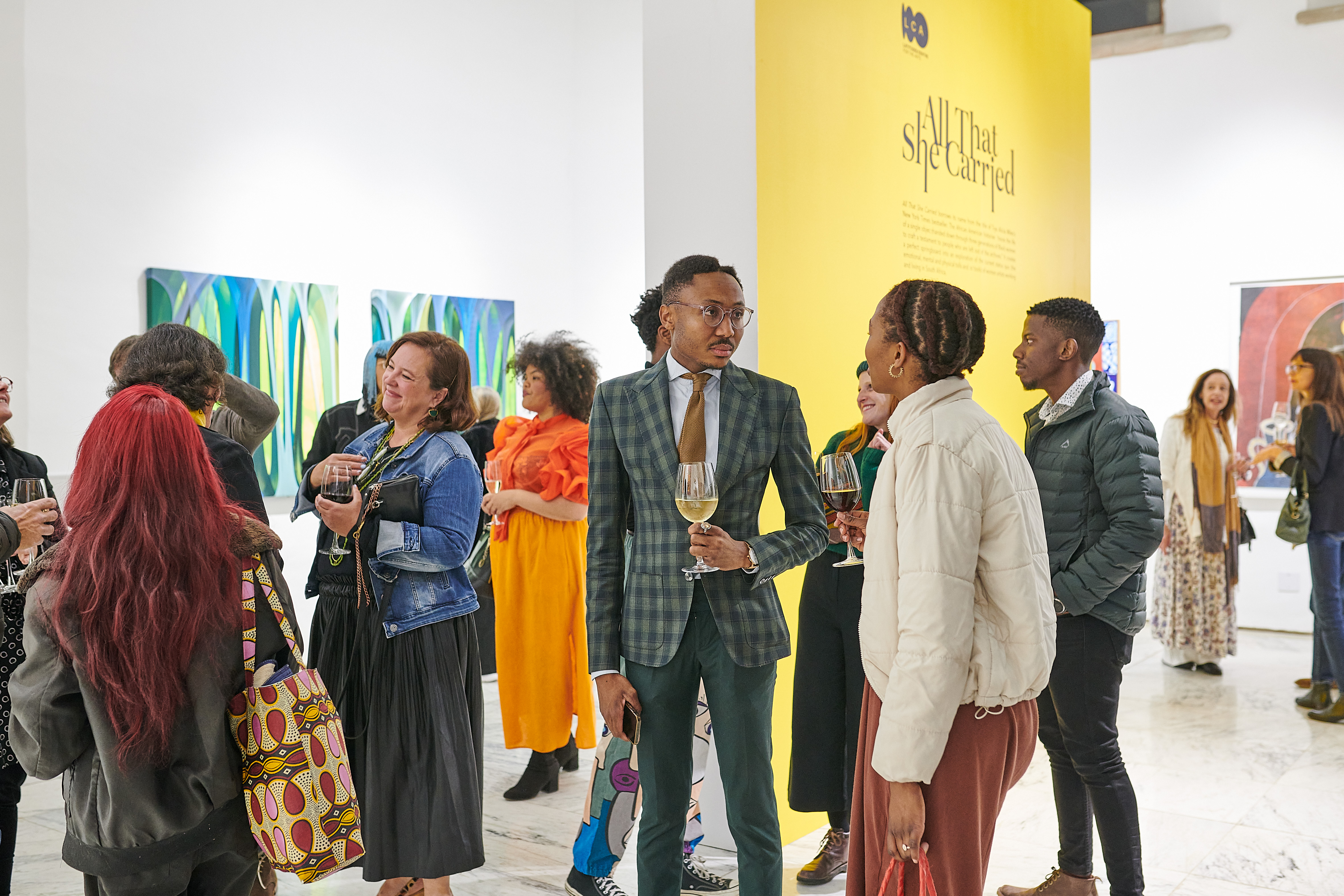 All That She Carried Exhibition Opening, photography by Anthea Pokroy
Participating artists include:
Boemo Diale, Teresa Kutala Firmino, Hemali Khoosal, Madikotsi "Mummy" Khumalo, Lebogang Mabusela, Theresa-Anne Mackintosh, Turiya Magadlela, Tinyiko Makawakwa, Maja Maljevic, Yolanda Mazwana, Puleng Mongale, Ruth Seopedi Motau, Nandipha Mtambo, Tyra Naidoo, Lerato Nkosi, Buqaqawuli Thamani Nobakada, Cinthia Sifa Mulanga, Usha Seejarim, Lady Skollie, Mbali Tshabalala, Lucy Jane Turpin and Charity Vilakazi
All That She Carried will open at Latitudes Centre for the Arts (LCA) and be live on Latitudes from 18 Aug - 23 Sept 2023 

Exhibition is on from 18 Aug - 23 Sept 2023 
Opening times are weekdays 10am - 4pm