African Artists Playing with Fashion
Zvakanaka tozvidawo 4 by Tafadzwa Masudi, 2021. R17,391.30 ex VAT. Presented by WORLDART. ENQUIRE. 
When artist Tafadzwa Masudi moved to South Africa from Harare in 2010, he found work in a clothing factory. He's loved fashion from an early age and enjoyed watching his uncle make garments in his workshop, especially the joy the tailored pieces would bring people when they tried them on. Now in his paintings, though his subjects' faces are often obscured by brightly coloured balloons, their outfits are a way for him to evoke or project emotion.
For better or for worse, at first glance, clothes can tell you more about a person than anything else. While an artist always has the timeless option of avoiding clothes altogether, fashion offers endless possibilities for who their subjects could be.
Kodi (Goodbye) by REWA, 2020. R 135,500.00 ex VAT. Presented by Out of Africa Gallery. ENQUIRE.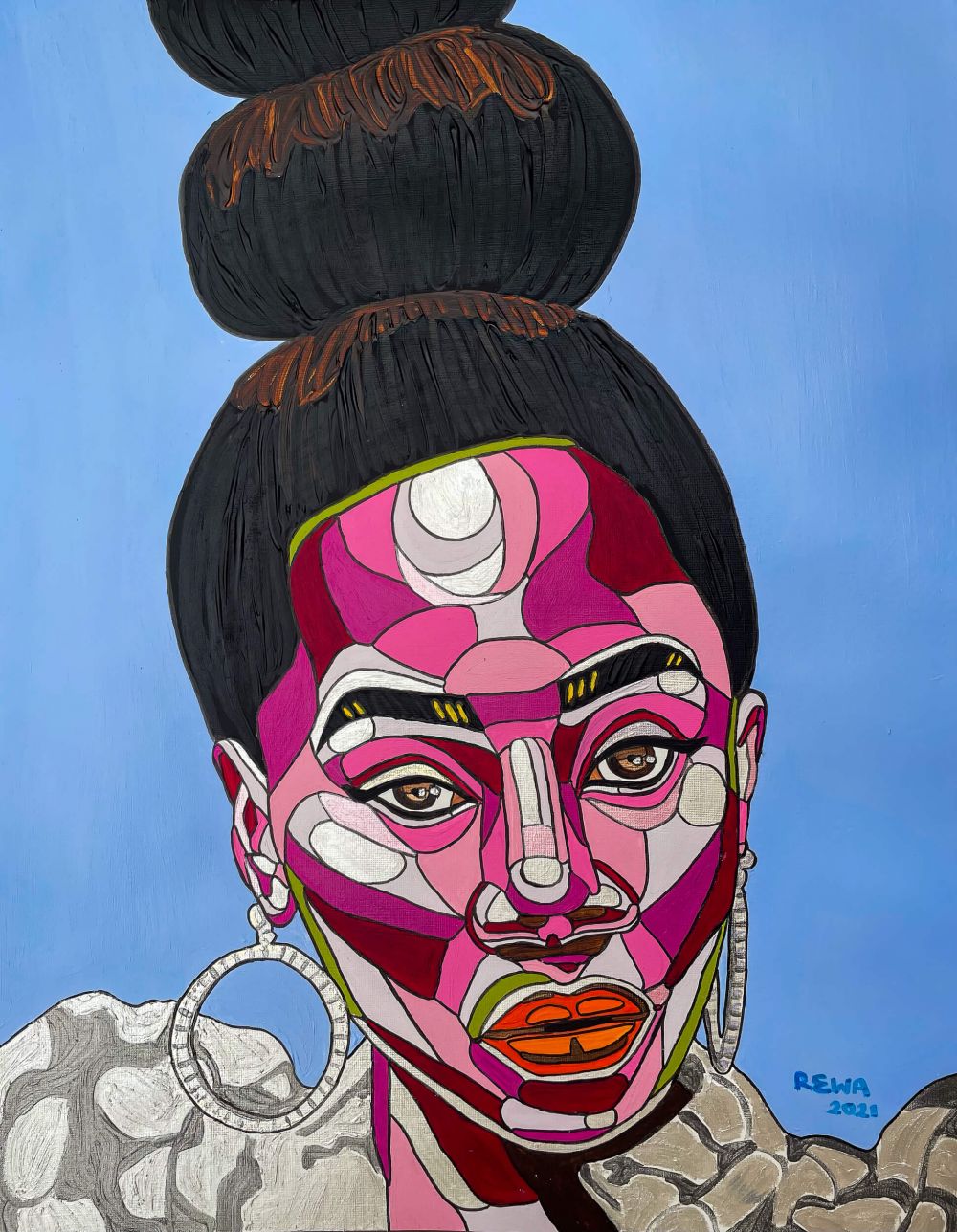 Kaline I by REWA, 2021. R 59,000.00 ex VAT. Presented by Out of Africa Gallery. ENQUIRE. 
Through clothing, art has always given us a glimpse into the society of the time. Today, contemporary African artists are painting a picture of globalisation, creativity, technology and individuality on the continent through their subjects' personal style. Artist REWA, who considers her home between Lagos, London and Johannesburg, dresses her subjects like herself. "My subjects are Afropolitan women for the most part," she says. "They are bold, fashionable and confident in their attire, stance and demeanour. Much like me." Hair, make-up and accessories are also important signifiers of her subjects' lifestyles. Her greatest muse is her sister who worked as a fashion model.
Tafadzwa also dresses like his subjects, "l feel l embrace the essence of now and transfer that into my paintings." And while many of these artworks paint a picture of now, clothing also allows for time travel. "It really depends on the story I am telling," REWA says. "If my narrative is centred around life in Onitsha (my home town in Nigeria), in the olden times, my subjects will typically dress in more traditional attire."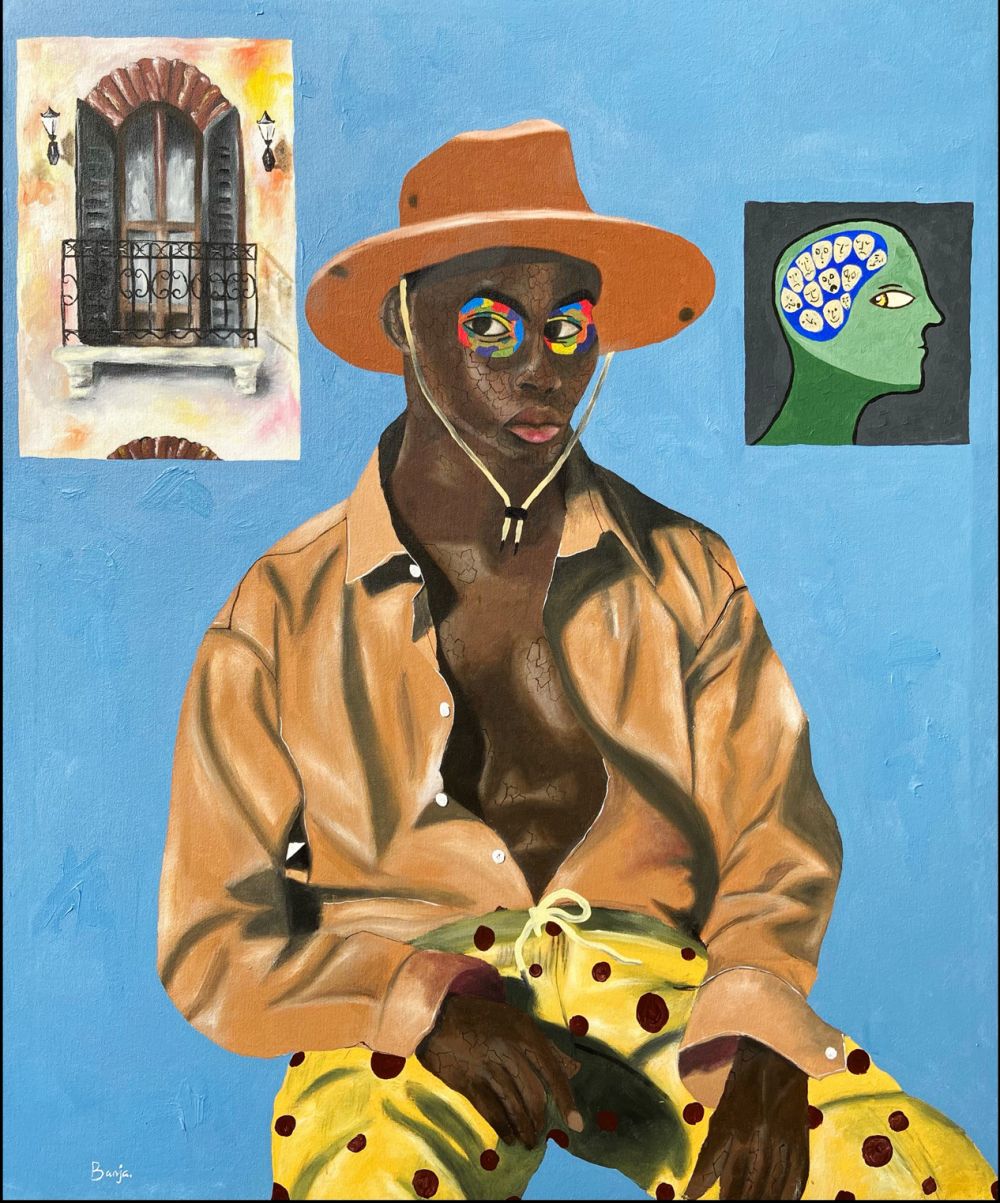 Dreams and Nightmares by Ian Banja, 2021. R 21,000.00 ex VAT. Presented by Eclectica Gallery. ENQUIRE. 
Fashion is being celebrated in contemporary African art in a big way as artists bring their personal love for fashion into their practice. "My relationship to fashion is deep," Kenyan artist Ian Banja says. "I love fashion because you have the chance to reinvent, express, create and stand out from the crowd, not forgetting the confidence it brings. The way we portray ourselves is often a physical manifestation of a deeper inner state." In his artwork, Dreams and Nightmares, the lone subject sits wearing a wide-brimmed orange hat, open silk shirt and polka dot trousers. "The characters are cool, relaxed and not overtly opulent. There is no pretence, they are comfortable with themselves and their surroundings."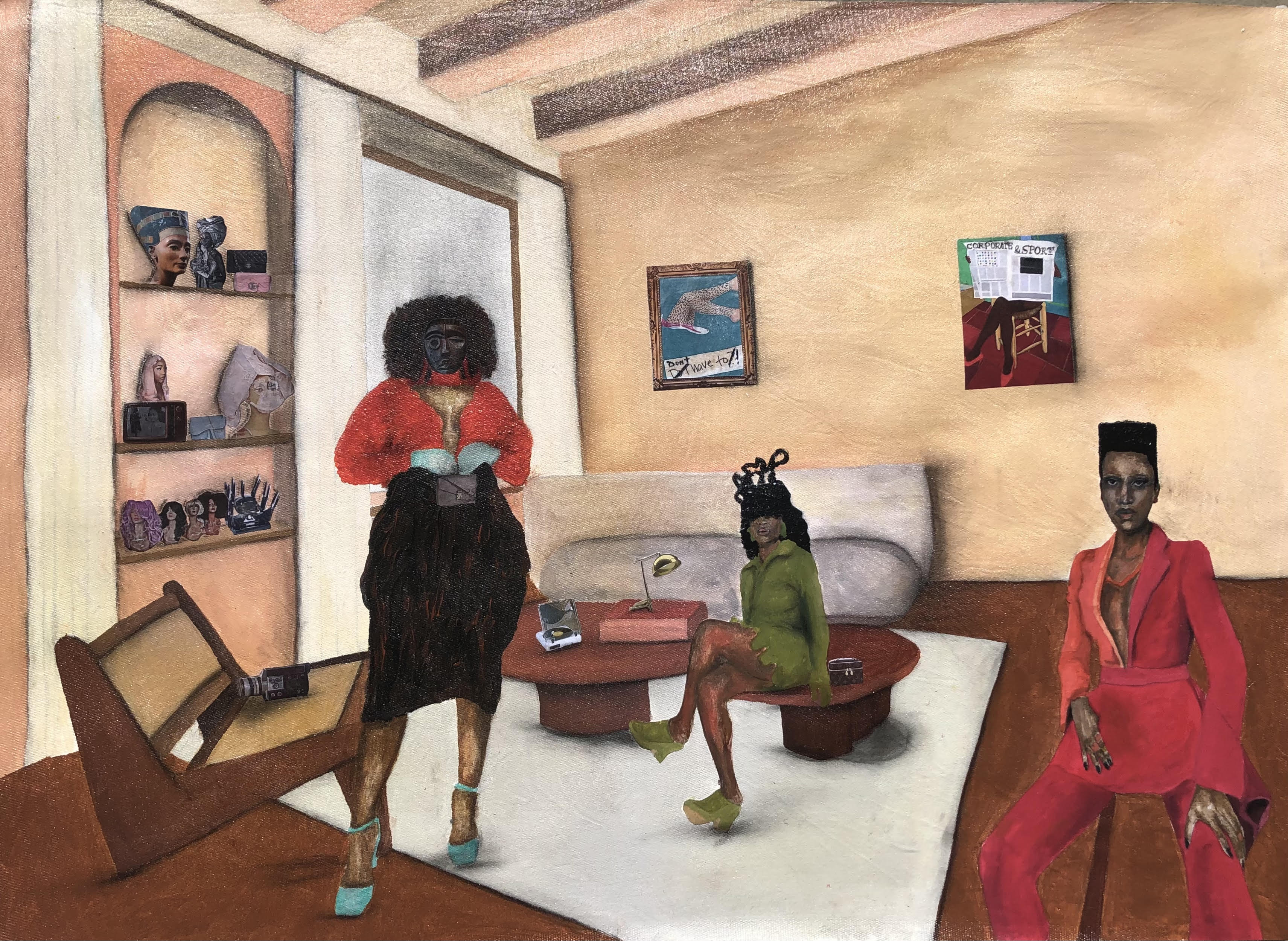 Taking Spaces by Cinthia Sifa Mulanga 
From street fashion to influencer culture to live-streamed runway shows, fashion inspiration has never been more accessible. Cinthia Sifa Mulanga from the Democratic Republic of Congo collects references from look books, magazines and Instagram but then makes her own alterations to the lengths, colours or designs as she starts painting. "I just explore styles that I find interesting," she says.
To stay authentic to her subjects, REWA doesn't refer to runway looks as her characters would be dressed in accessible fashion over couture. For Ian, it's all about the story. "If I want to bring out a certain element or a challenge that my subject is going through, you'll notice from the dressing of the character," he says. "I won't use fancy design, I'll just use a simple style." This can be seen in the clothing choices he made for his series 'Struggles' in which he depicts the habitual hustles of his peers.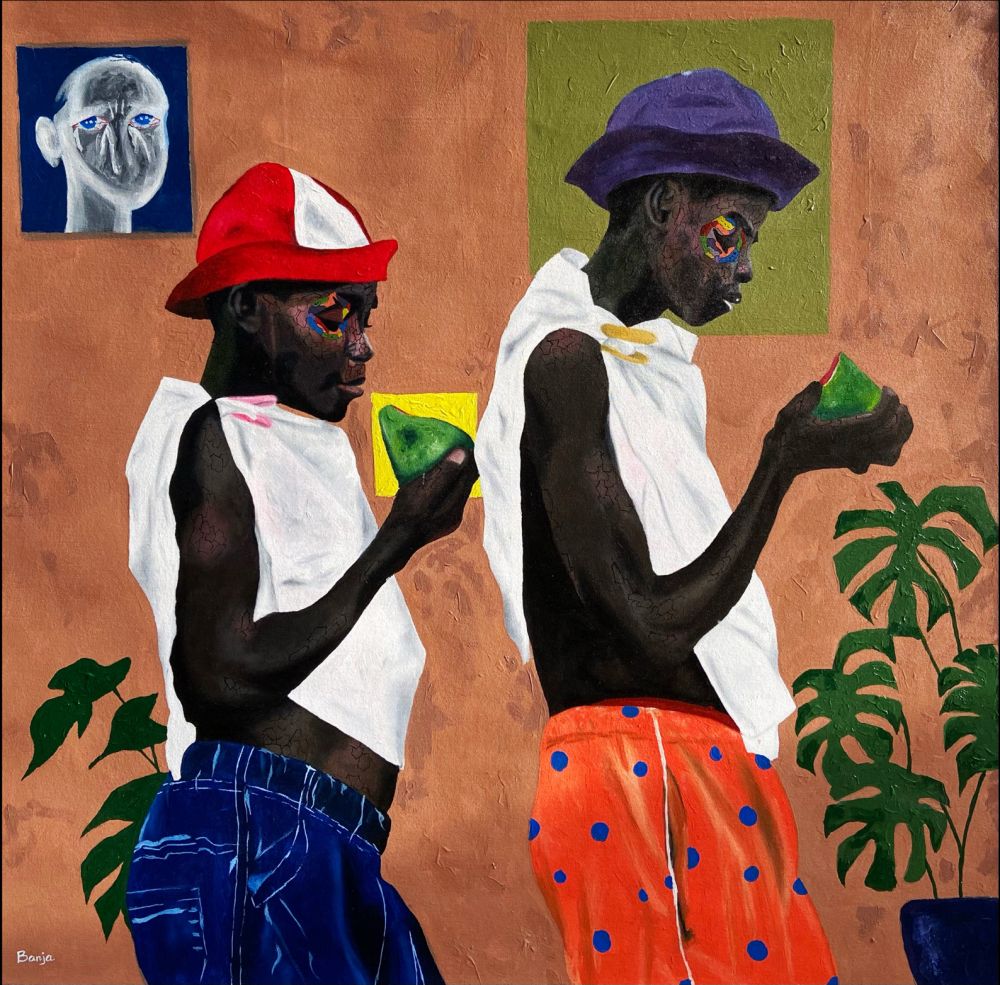 Hand to Mouth by Ian Banja, 2021. R 21,000.00 ex VAT. Presented by Eclectica Gallery. ENQUIRE.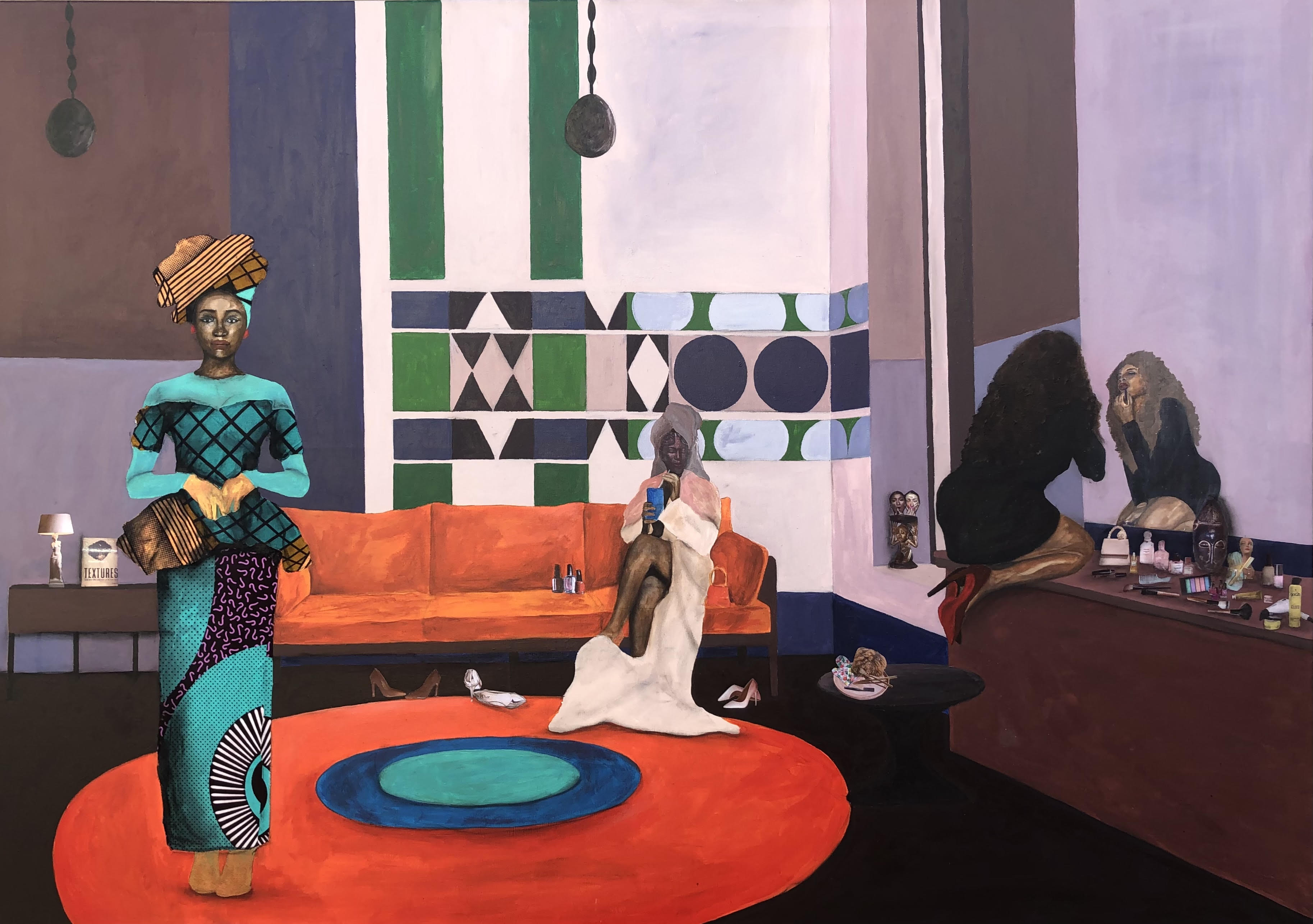 Her Element by Cinthia Sifa Mulanga
Cinthia paints mostly women and it's important to her that they're not all the same type of person. She uses clothing to suggest their individuality. In the same painting, one subject applies lipstick in the mirror wearing a Little Black Dress and red-soled high heels while another wears a head wrap and an outfit made from African wax prints. Through their fashion choices, she gives them freedom. "All despite society's perception, the women remain who they are and who they could possibly be," she says.
"My hope is to show resilience and strength through the outfits I use," Tafadzwa adds. "providing a sense of optimism through my bright and vivid color palette."
Zvakanaka tozvidawo II by Tafadzwa Masudi. Presented by WORLDART. 
Man in the Mirror by Ian Banja, 2021. R 17,250.00 ex VAT. Presented by Eclectica Gallery. ENQUIRE.