UNDERSTANDING THE SELF THROUGH THE BLACK FEMALE BODY
Having formed her visual language after discovering the internet in her twenties, Frida Orupabo constructs narratives by reexamining images. Many of her collages include "colonial images" of the Black female body as a way to create conversation about our own bodies. Orupabo is one of the artists featured alongside Contemporary And, The Nest Collective, and CUSS with Vukani Ndebele in the exhibition HERE AND NOW at Museum Ludwig: Dynamic Spaces, curated by Romina Dümler in Cologne. Will Furtado spoke to the Norwegian artist about the work she's presenting in the exhibition.
Installation view Frida Orupabo, Untitled, 2020, HERE AND NOW at Museum Ludwig: Dynamic Spaces, Museum Ludwig, Cologne 2020, © Contemporary And, photo: Rheinisches Bildarchiv Köln, Cologne / Nina Siefke
Will Furtado: You describe some of the images that you use as "colonial images." Is this to refer to a very specific time and place, or to any images created in a world that is not quite beyond colonialism? 
Frida Orupabo: When I speak of colonial images, I usually refer to photographs taken during the colonial period. Images from the 1850s and onward. These images are the main sources for my work. And they are very specific. Though this is not to say that we have moved beyond and away from stereotypical representations or objectification of non-white people. They are still present and still function as a powerful tool in the construction of narratives, knowledge, events, history, and identity formation. We are constantly confronted with images of what we are not – white fantasies with no hold in reality.
WF: The body is very present in your work. What is the relationship between your own body and your work?
FO: I am my work. I do what I do to get a better understanding of things around me and within myself – as with the subjects shown in my work, my own body is not white. What you see when you look at my subjects is also what you see when you look at me. My central concern is the depiction of the Black female body – how it is perceived and talked about, and the consequences of that.
On the other side, I am asking the same question. What is the relationship between your body and my work? And how does it affect what and how you see?
WF: You started with digital collages, moved on to video and physical collages, and lately further into other physical mediums. How do you feel your practice has evolved and where would you like to take it?
FO: The process has felt very natural. The move into different mediums has sometimes been caused by a need to do something else or to work with different materials, while other times it's just the process of creating that takes you to new places. The different mediums are all very much linked to the same archive – the starting point for everything I do. I don't have a clear idea of what is next – most of it happens as I go along, and very little is planned.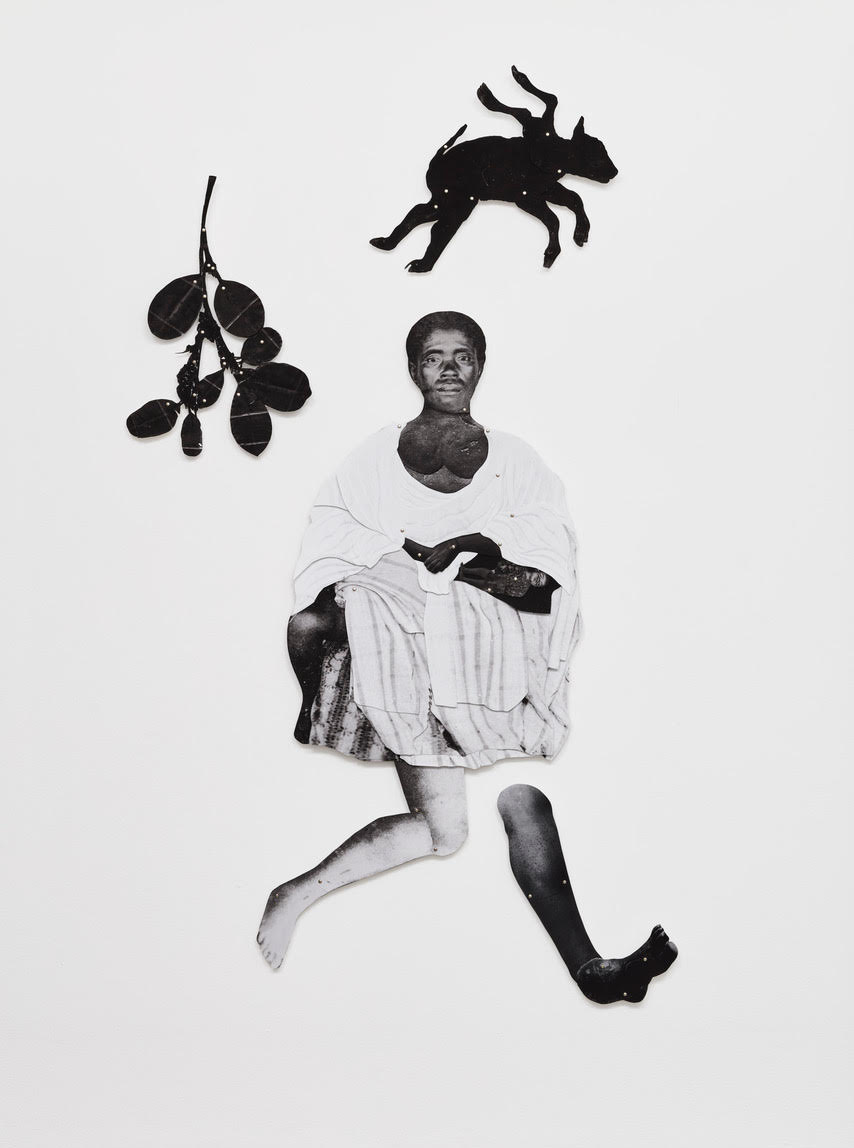 WF: What has been the role of the internet in your life and practice in relation to growing up in Norway?
FO: I got access to internet very late. I believe I was in my early twenties. But when I did, it opened up a whole lot for me – creativity-wise and also socially, making it possible to develop relationships, friendships, and networks across borders. Which strengthened a feeling of belonging, and fueled knowledge, creativity, and collaborations. Access to the big web also made it possible to make a shift from the use of private photos to found images in my work. This broadened the work – made it more universal – and it also broadened the scope of the search.
WF: Could you talk me through your selection of work for our exhibition at Museum Ludwig?
FO: I am showing one video work, two collages, and one print. The selection is a mix of old and more recent works. Meaning that some of them have been part of bigger constellations in the past. They now create a new narrative together, which I find interesting. The themes explore race, gender, sexuality, violence, the gaze, post-colonialism, and identity.
HERE AND NOW at Museum Ludwig: Dynamic Spaces runs from June 6 to August 30, 2020.
 This article was originally published in Contemporary And.
Interview by Will Furtado.