The global art market bounces back, according to the latest report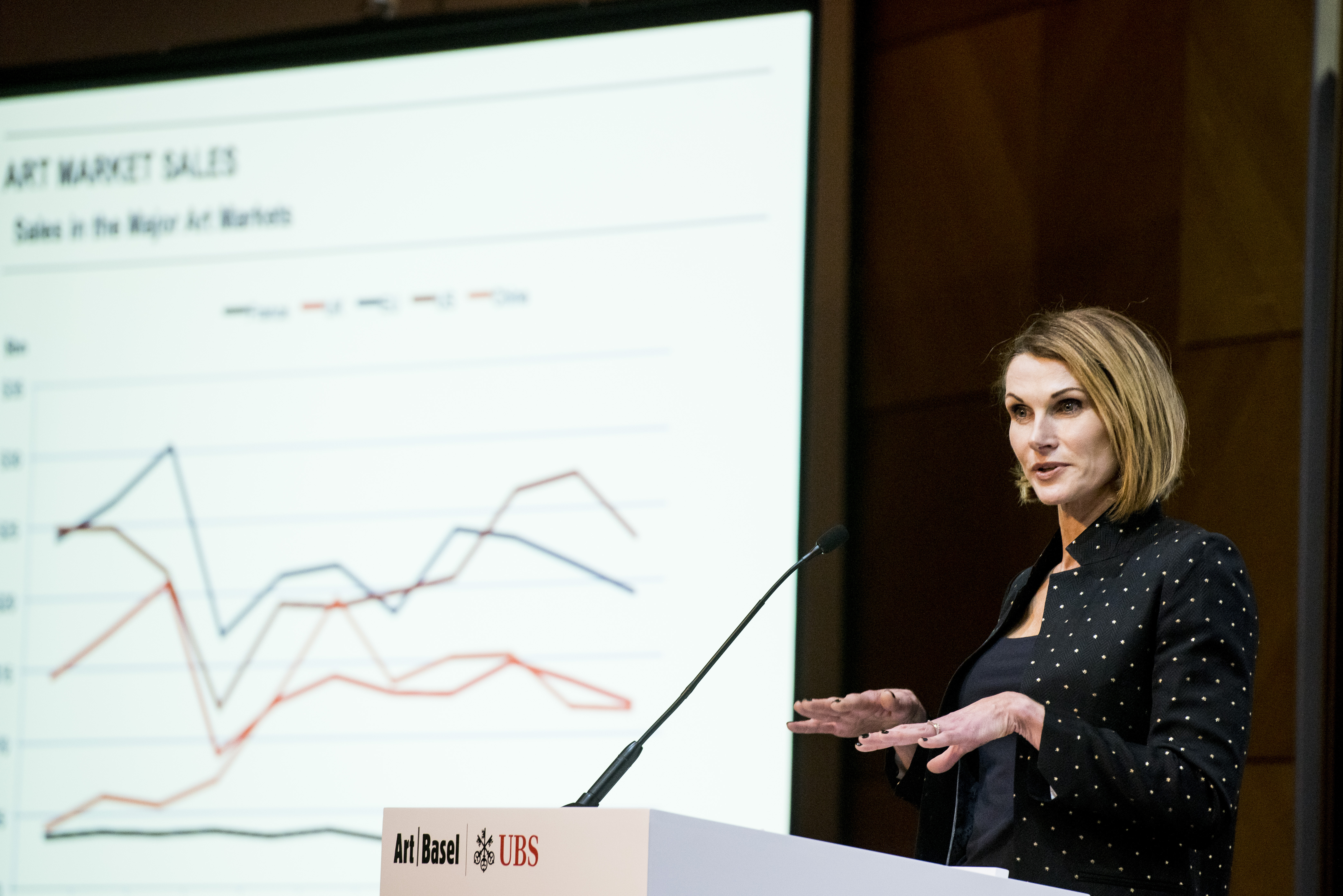 Dr Clare McAndrew explains the findings of the latest Art Basel & UBS Art Market Report, Courtesy Art Basel, © Art Basel
The annual Art Basel & UBS Art Market Report finds that in 2021 the art market recovered, while NFTs boomed. We break down the most relevant findings in this lengthy report.
The global art market certainly dipped in 2020, but has recovered in 2021, though not recouping the same figures achieved in 2019. Conversely, the NFT art market experienced an upward trajectory during and since the Covid-19 pandemic. These are two of the significant findings from the recently released Art Basel & UBS Art Market 2022 report compiled by Dr Clare McAndrew.
Sales figures for art in 2021 are healthier than the previous year but not at the same level as they were prior to the pandemic. In 2019 overall sales of art in the global art market were estimated at $40.5 billion and in 2021 they reached $36.7 billion, however, this is an improvement from 2020 when sales totalled 31,4 billion. As such, a recovery is afoot, though gradual.
As the report was produced before Russia's war in Ukraine, it doesn't delve into the impact that conflict could be having on the art market, which is likely to be fairly extensive given; auction houses cancelled sales in Russia, dealers rely on sales to Russian oligarchs and most importantly the increase in the cost of transporting art, particularly to China.
At 270 pages this annual report doesn't make for light reading, is expectedly Euro-American centric and is not as 'global' as it purports to be, however, as it is the only one of its kind, and has established a baseline from which changes can be measured.
As always, the African art market hardly figures in the report – mostly due to the fact that art ecosystems are in their nascence on the continent, but also due to the focus on high-end art and antique businesses – there is little clarity as to the percentage of antiques to art dealers in the study.  As such, the African share of the art market is not even a blip on the global screen, so to speak.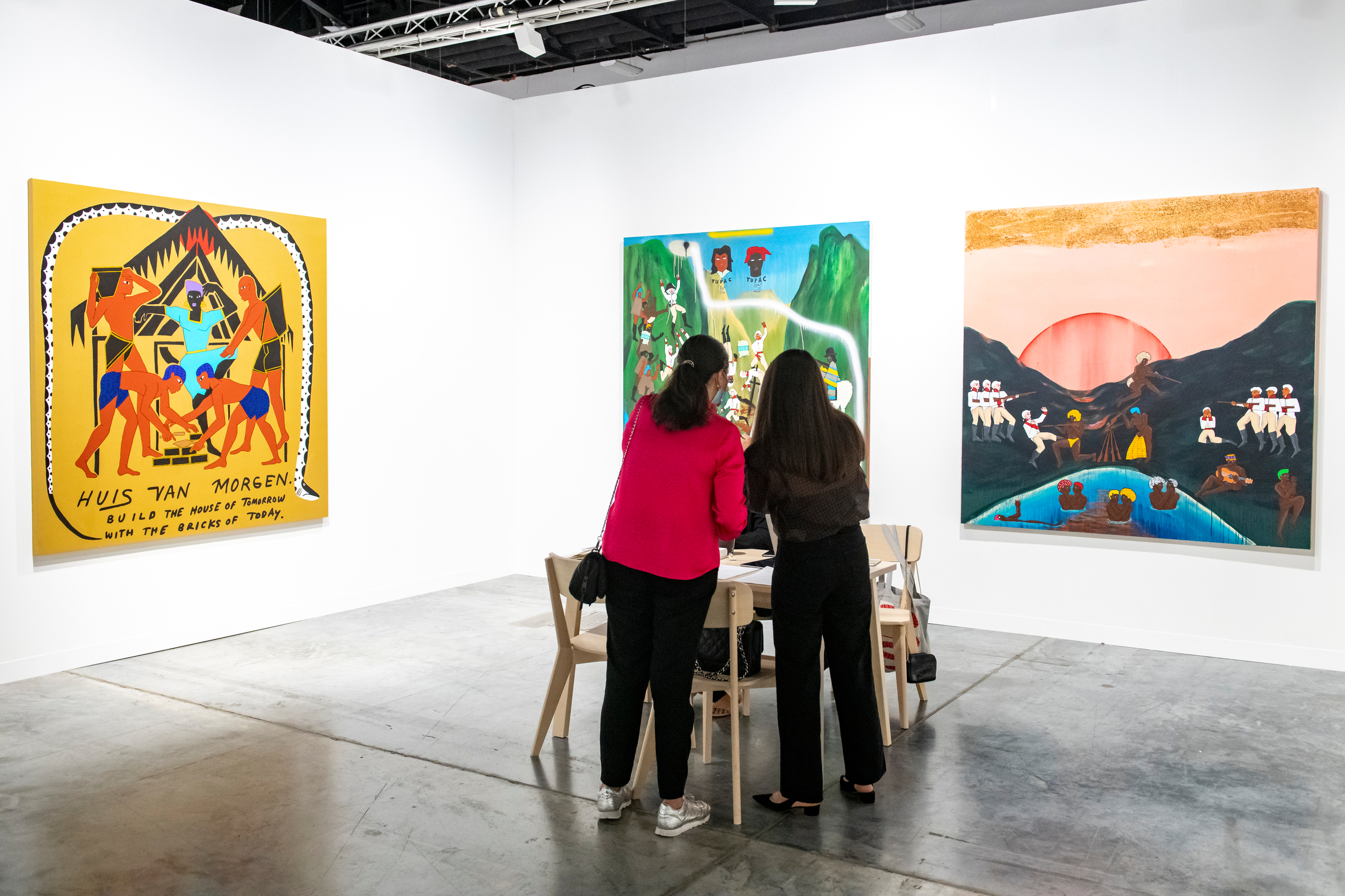 Umar Rashid and Frohawk Two Feathers were presented by Tiwani, a London and African based gallery, which showed at Art Basel Miami Beach. As the Art Basel & UBS report indicates,  the US claims the largest market share of the global art market, as such UK and African based galleries are constantly looking at connecting to collectors in that country. Courtesy Art Basel, © Art Basel


In a graph analysing which country has the largest market share no African countries are listed. As has been the case for some time, the US claims the lion's share of the art market at 43%, China 20% and the UK 17%. Substantiating the idea that Brexit has had a negative impact on the British market paving way for the French to lead in Europe, it was found that the UK has been losing ground – 3% year on year – and the French market gained a percentage point. 
What do all these figures mean for the African art market or collectors focussed on African art or based in Africa?
London has been the most active pan-African centre for the trading of African art – with buyers and sellers from Africa and elsewhere gravitating towards this British capital to acquire or sell art.  This seems unlikely to change immediately, but these figures suggest, that in time Paris might surpass London. Many dealers and collectors from former French colonies in Africa have maintained links to France but those with links to Britain may need to start looking to Paris.  Given the US and China claim the largest share of the art market, does suggest that collectors and dealers focussing on Europe should be turning their attention to these continents as places to sell art.
This naturally, pertains to those works produced by African artists who have established reputations on those continents.
It is the first time data on NFTs have been included and analysed in this annual report, albeit separately from the regular art and antique market.  The findings on this market suggest it remains separate from the 'conventional' art market in the sense that sales of NFTs at auction houses, art fairs, and by art dealers remain fairly low. Yet the turnover and growth are so substantial, particularly during a time when the traditional art market has battled during the pandemic, that this form of digital art simply can't be ignored.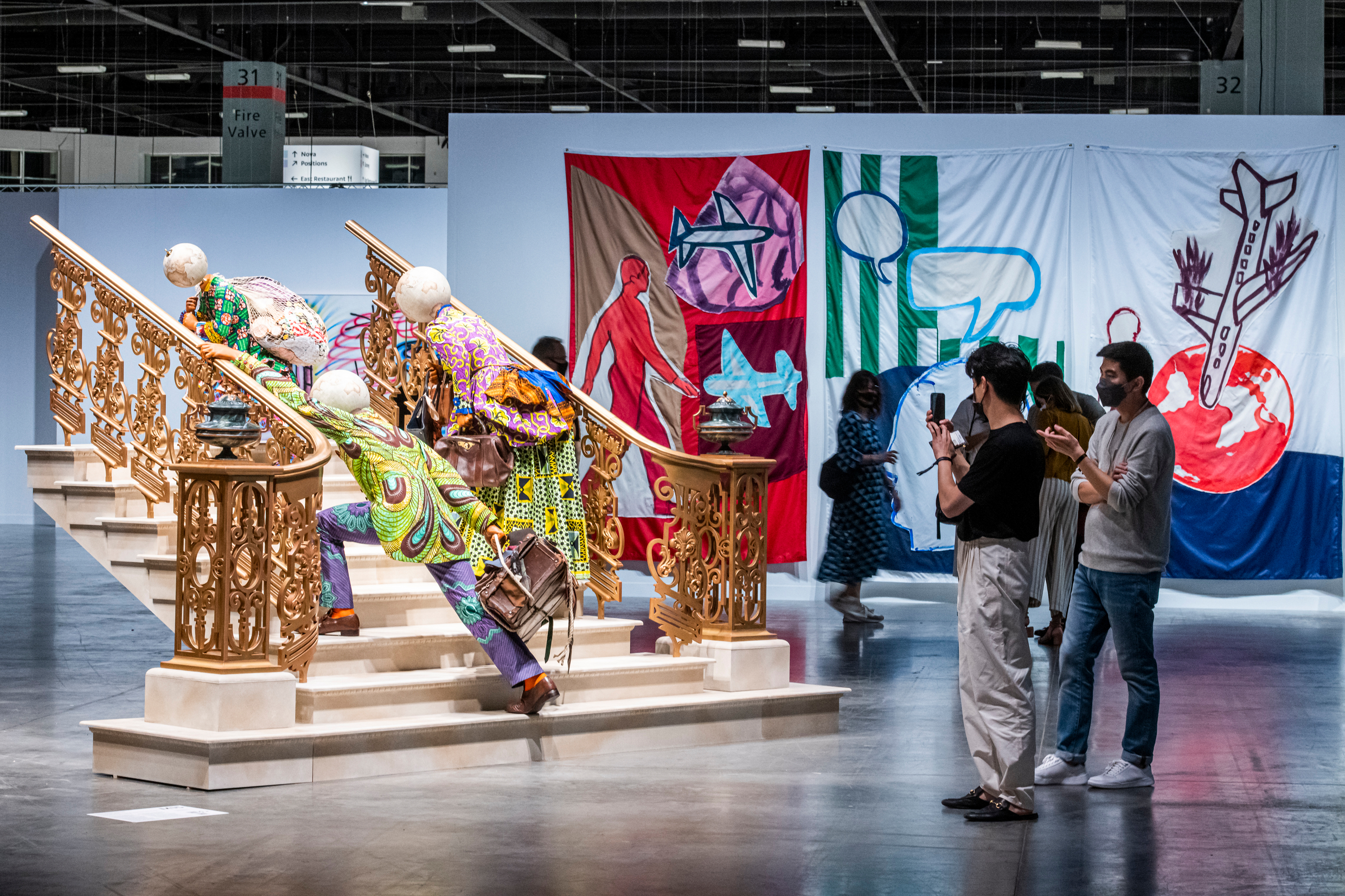 Yinka Shonibare CBE shows his work at James Cohan Gallery at Art Basel Miami Beach. As the Art Basel & UBS report indicates,  the US claims the largest market share of the global art market. Courtesy Art Basel, © Art Basel


In 2019 sales of NFTs were estimated at $4,6million and in 2021 they grew to $11 billion. Significantly, McAndrew makes a distinction between ordinary NFTs, collectible ones and art ones – as such these figures include music and sport NFTs. Notably, the sale of art NFTs accounts for a small fraction being sold in 2019, as such the NFT boom relates more to other types of NFTs. However, the sale of art NFTs has risen from 2% in 2019 to 24% in 2020, suggesting the pandemic accelerated sales of this category. In 2021 this figure, however, shrunk to 14% - is this due to the regular art market going live again?
The number of buyers for art NFTs appears to have increased and there is an overlap between High Net Worth traditional art collectors and NFT buyers as it was found that 74% of these individuals acquired art-based NFTs in 2021.
The average price for NFTs is rising, where once the average price was $200 in 2019, in 2021 it has risen to $1462.
Significantly, a characteristic of the art NFT market is the potential for resale – resales made up 73% of the value of trading in art-related NFTs.
This may all bode well for those interested in NFTs or contemplating investing in this market – which like all others would require research before leaping in. However, as with all new markets, particularly related to cryptocurrency – it is a volatile market with a number of issues disrupting its long-term stability. Largely this is due to an absence of tight regulations which have allowed for fraudulent copies of artists' work to be flooding the market.  The anonymity of the buyers and sellers in market places makes this class of art highly vulnerable to "transactions that would not be permitted in other financial markets."
For example, creators have been found to be buying and reselling their own work in an attempt to drive up its price. However, to the NFT art market's credit the "transparency of blockchain data makes it easy to discover these activities and identify sources" argues McAndrew.
The resale market for traditional art objects remains stable and it was found to have rebounded strongly in 2021 increasing by 47% from 2020. In line with previous studies, Postwar and Contemporary art claims the market share of the auction market in terms of value and number of lots. In other words, contemporary art remains the most buoyant, which is not surprising when you consider that they found that on average High Net Worth (HNW) collectors spent over $1million on art and antiques in 2021. This is extraordinary given that on average collections included 34 works in total.
Given 37% of the HNW collectors were found to have engaged in extensive research before acquiring a work you could surmise that these small collections are fairly well-considered with larger sums spent on less risky works. In their survey, they found that HNW collectors are concerned with the value of works holding (76%) though it is significant that 7% or less bought art for investment reasons.
Mary Corrigall is a Cape Town based art journalist, advisor and independent researcher