Unpicking the value of textile art
Now that the rush to buy textile-based art has somewhat abated those who are making strides with this medium are easier to spot and appreciate. 
-----------------------------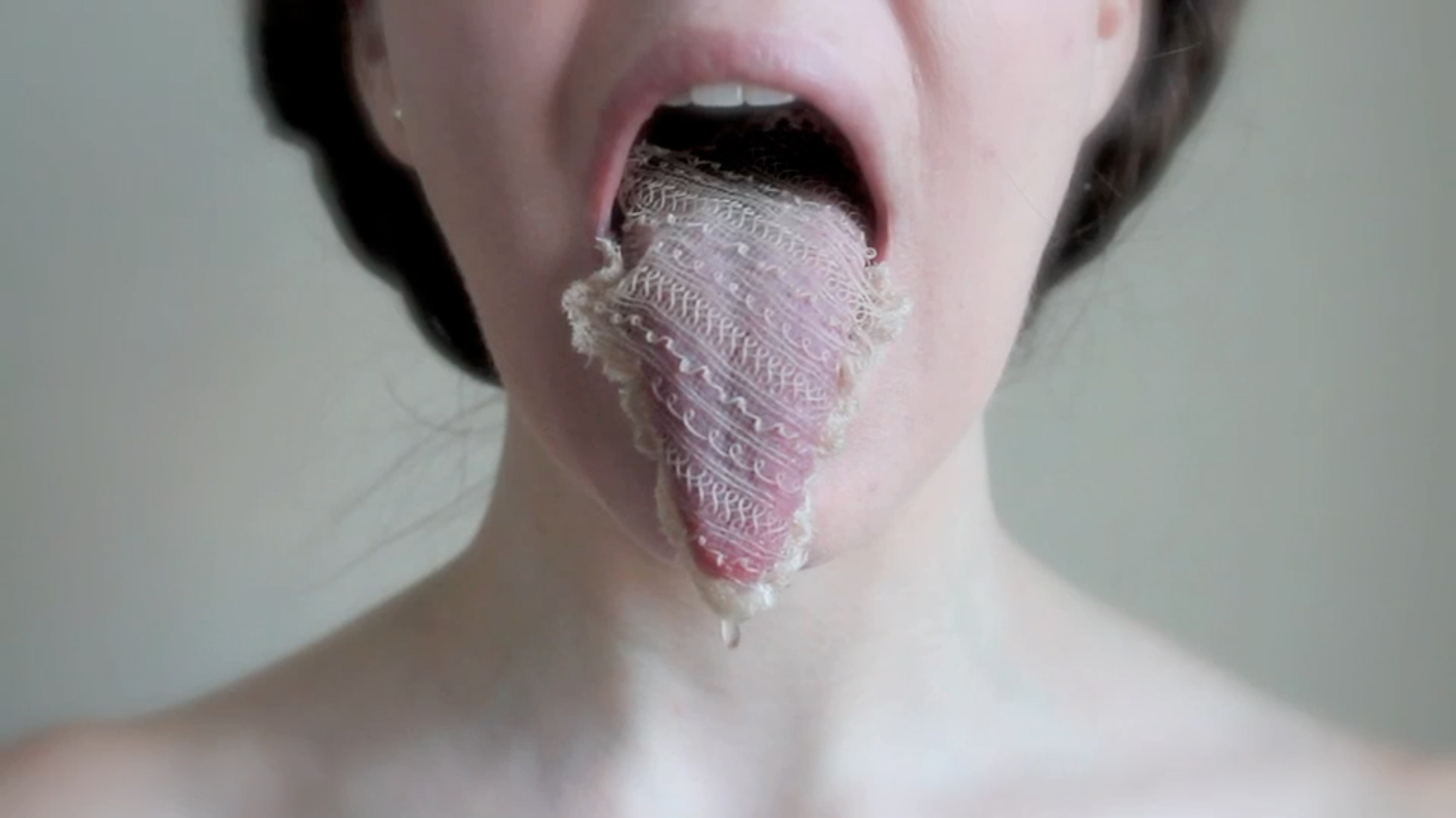 Screenshot from April Dauscha's (2013) video work Custody of the Tongue (binding) - showing at Whatiftheworld's exhibition Indecent curated by Pierre Fouché
The perceived interest in portraiture painting has been positive for the development of textile-based art. When textile art was enjoying its time in the African contemporary art market sun, there was an abundance of frankly aimless, raggedy textile works finding their way onto exhibitions and art fairs. It is unfortunate, but often artists (and gallerists) without their own point of view do climb onto 'trends' in the art market, often weighing them down with poorly conceived and executed works. This eventually motivates buyers and curators to look to something new to focus their attention. And so, the wheel of the art market turns. 
As always when acquiring artworks the best time to look at an artist, medium or era is when there is little attention on it, or them. Without a buying frenzy driving up prices, sometimes inflated in relation to the quality of the art, collectors can take their time, considering the works and identifying those that are valuable independent from speculation in the art market. 
Not that textile art is a flash-in-the-pan trend in art by any means. Textile-based art has been a medium associated with African contemporary art for some time. This isn't only due to a succession of African artists fashioning hanging works in the style of El Anatsui or manipulating, exploiting West African prints in the manner of Yinka Shonibare, or digging into its 'storytelling' function in the manner of Billie Zangewa, but perhaps due to the importance of textiles as conduits of expression in many African cultures, whether indicating status or other societal values. There is a body of study focused on this and many of these important historical cloths reside in museum collections.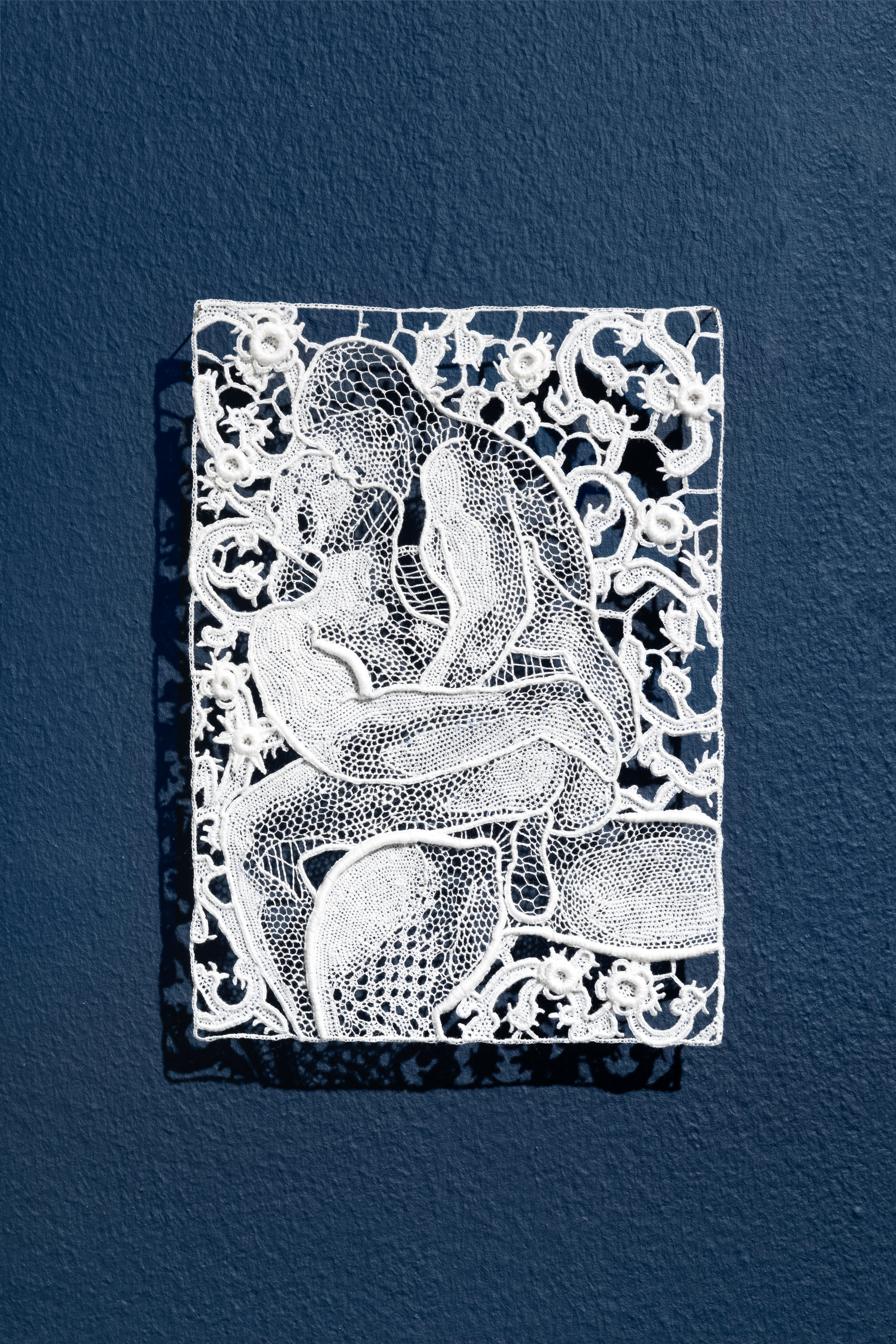 Pierre Fouché Alpha Thickems, showing at Whatiftheworld's exhibition Indecent curated by Pierre Fouché, image by Paris Brummer
In a sense therefore many contemporary artists are building on or extending this central role of textiles imbuing it and working with its properties. 
It takes a confident and persistent art collector willing to do a bit of research and get to the bottom of why and how an artist – their motivations will always differ - is working with textiles. For, of course, the intrinsic and sustained value of a textile-based artwork is connected to the artist's engagement with their medium and why it is not only vital to their expression but would be impossible without it. 
How would this approach apply to say a William Kentridge tapestry work, given the artist's core expression is tied to drawing and the filming of drawings? Rendering Kentridge motifs in a tapestry format might add another layer of possibility to his expression, in terms of the formal qualities, the tactility, and perhaps ideologically, positioning it in a western canon of historical storytelling, mythmaking through the tapestry. However, a Kentridge tapestry would unlikely be considered essential to a collection focused on textile art. Primarily this is due to the work not being a product of an engagement with textiles.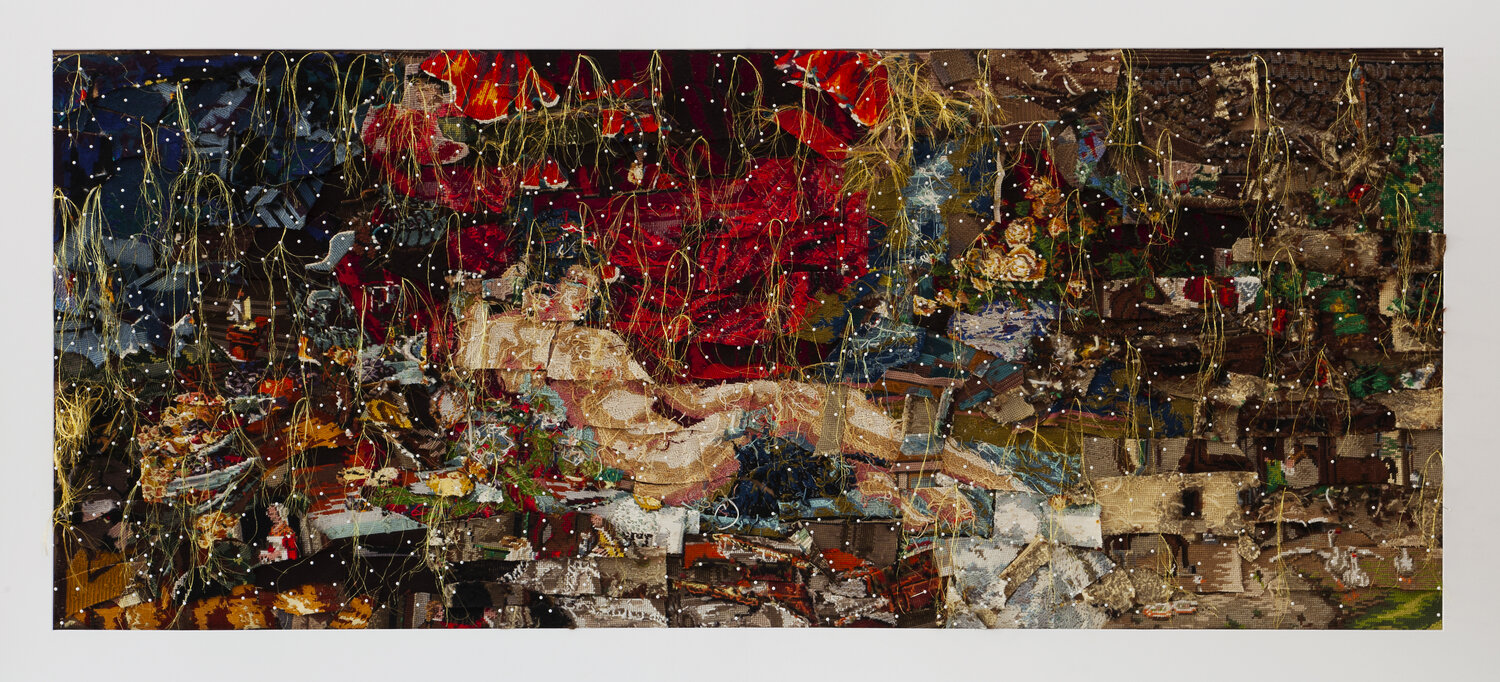 Gina Waldman, Olympia, 200cm x 100cm, tapestry, threads, pearl pins, 2017, CONTACT TO BUY
From this perspective, those artists who shift and change their medium and expression to suit the market or to extend their practice would more or less be excluded from a serious collection.
Those artists genuinely interested in working with textiles, cloth or hanging sculptural works now, due to the focus on painting and portraiture, have a less noisy field to plough further and deeper. 
One such artist doing so with great aplomb in Cape Town right now is Pierre Fouché. He has curated a deliciously naughty exhibition, appropriately titled Indecent, of quasi-pornographic imagery of homosexuals, interpreted via lace and other textile-based mediums. There is also a solo exhibition of much less risqué works in The Seas and all will part, Expire showing at the Spier wine farm near Stellenbosch, which presents works in which Fouché reinterprets historical images, texts and other interesting subjects through his contemporary lace-making.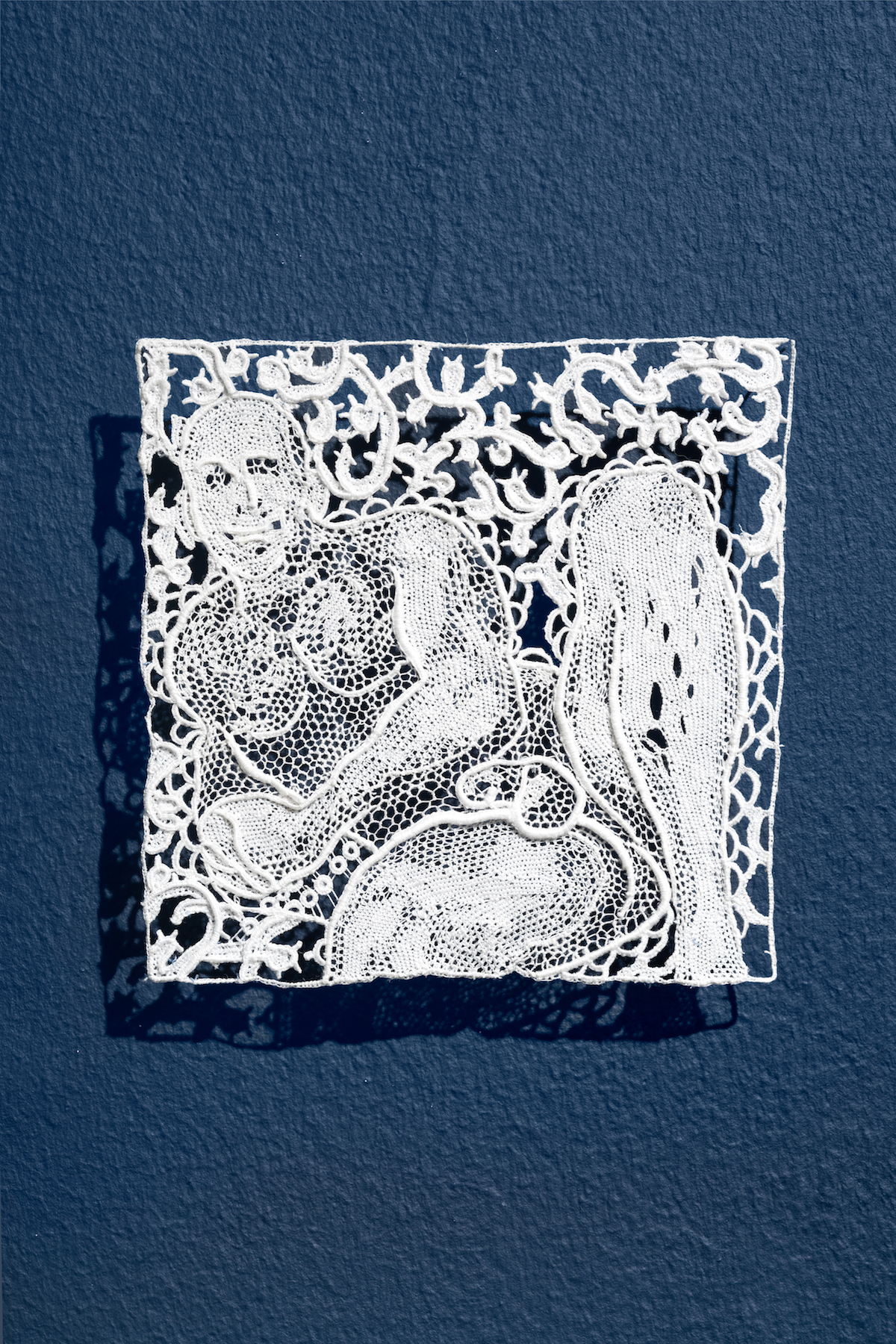 Pierre Fouché Thickems in Flower, showing at Whatiftheworld's exhibition Indecent curated by Pierre Fouché, image by Paris Brummer
Fouché is an ideal example of an artist working with textiles whose art, expression, and technique is woven (pun intended) into his art-making practice. Fouché doesn't simply work with lace, he makes it. He has spent decades learning the old techniques and it is through doing so that he also came into contact with the cultures, ideas, (and genders of the makers) linked to this textile over time. This has all fed into his contemporary expression using lace as one of his mediums.
Fouche works against the grain of his medium – such as in the case of the miniature lace work Alpha Thickems which sees two naked men getting it on. Erotic imagery of two men is not associated with lace – indeed while lace is associated with seduction and romance it rarely is used to depict a sexual act or that between two men. In this way, Fouche radically challenges the culture attached to this textile, but in using it he can position homosexual love and sex as one that is historically rooted and beautiful, not sordid or oversexualized as may be the perceptions some have due to the prevalence of gay porn imagery.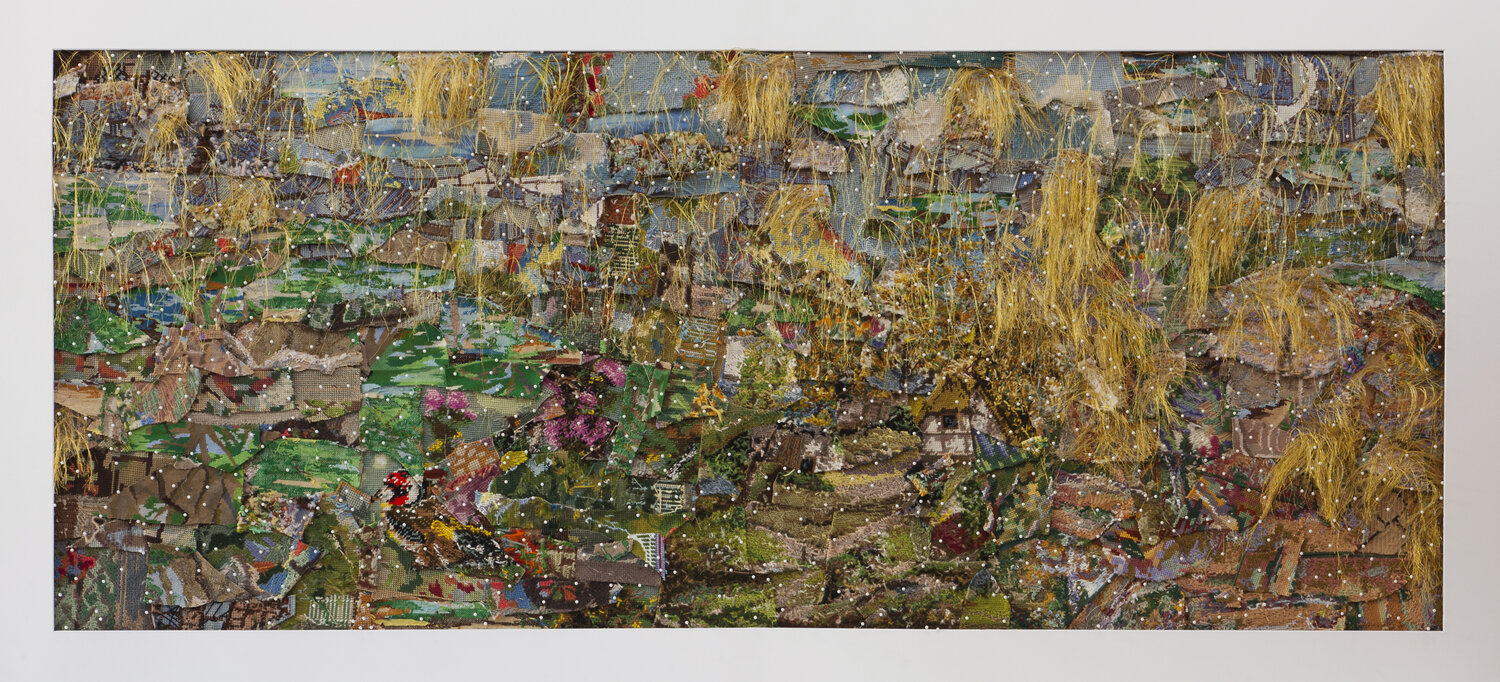 Gina Waldman, Pastoral, 200 x 100 cm, tapestry, pearl pins, thread 2017, CONTACT TO BUY
Bonola Kavula, who recently won the inaugural Norval Sovereign African Art Prize, doesn't make the shweshwe fabrics she works with, instead, she mimics the 'dot' pattern that defines many of the prints associated with this South African fabric in her abstract 'reconstructions of it into abstract works. As such she deconstructs shweshwe not only as a print but in so doing, prompts the viewer to reconsider it at a granular level with regards to its social and cultural value - looking beyond the print's aesthetics so to speak. 
Screenshot from April Dauscha's (2013) video work Custody of the Tongue (binding) - showing at Whatiftheworld's exhibition Indecent curated by Pierre Fouché
For this reason, many artists working with textiles are more interested in pulling fabrics apart than weaving them together. Gina Waldman is an example of an artist embracing this approach in her tapestry works in which she reverses the process and the image by presenting the reverse side of a tapestry and working as a result in the reverse – back to front. This makes for a very tactile image with all the messy and loose threads hanging from the surface. This quirky reversal is also filtered through traditional art imagery – such as Édouard Manet's Olympia or historical maps allowing Waldman to quite literally 'unpick' the power and influence of the imagery she works with.  
South Africa boasts a wealth of artists working with textiles. Kimathi Mofofo who started out painting has found her groove in embroidered works. There are also some interesting newcomers to the scene too such as Abongile Sidzumo, who is working with leather, constructing abstract and configurative works with this material. 
Undoubtedly, the dominance of figurative art has seen textile artists move away from more abstract compositions, Sidzumo appears to be playing both sides for now.
- Mary Corrigall is a Cape Town-based commentator, advisor and independent researcher