RMB Latitudes art fair offered discoveries of all kinds
New dealers, artists and a rambling venue, made this art fair pleasantly unpredictable
- By Mary Corrigall
-------------------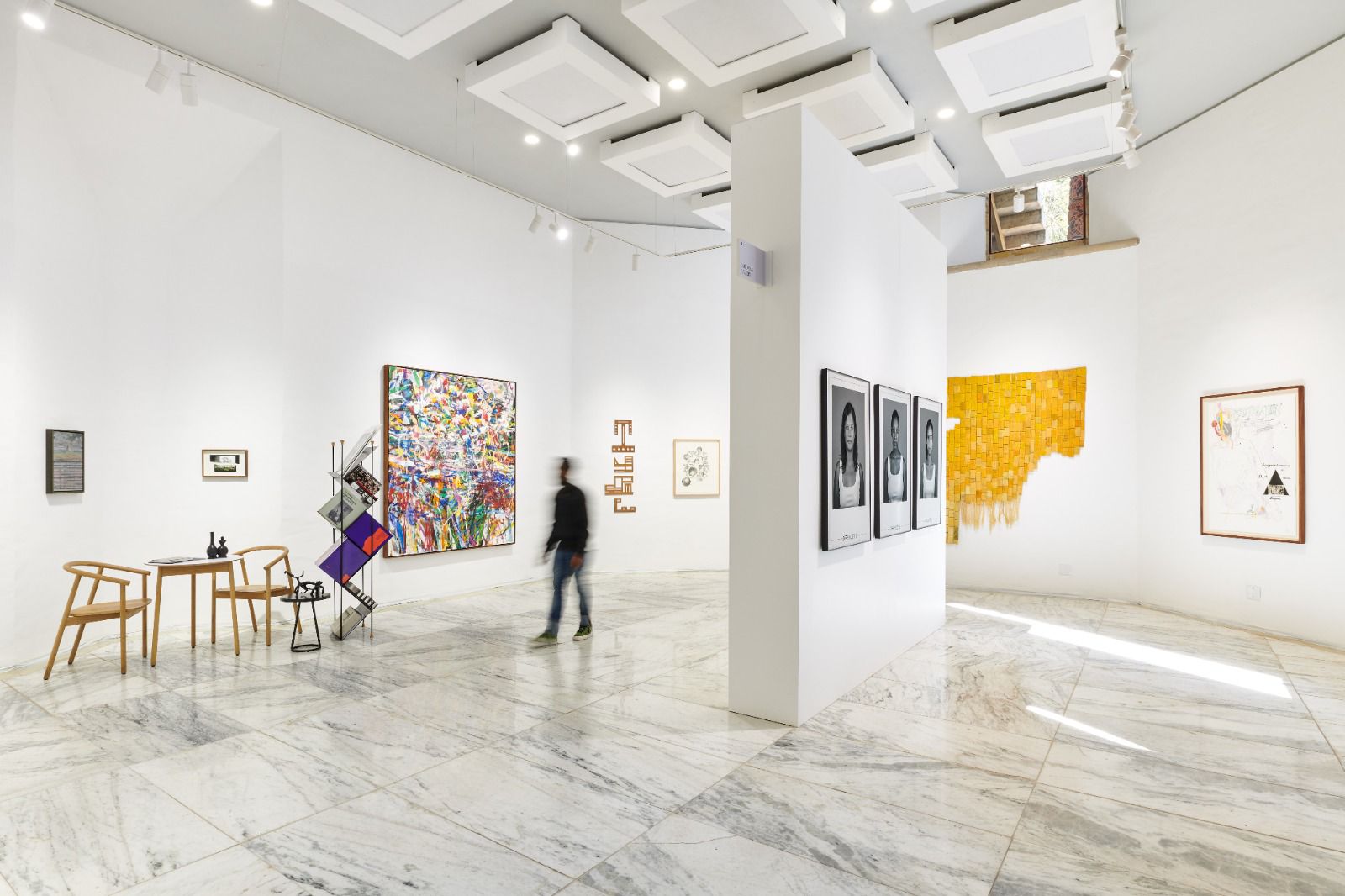 Goodman Gallery booth at RMB Latitudes Art Fair 2023, photography by Anthea Pokroy
Discovery is a word you regularly hear with regard to the value of an art fair. Seasoned art collectors view these events as an expedient way of 'discovering' an emerging talent, or artist from another country. An art fair is often considered to have achieved its objective if it converts those art fair virgins, who claim to have discovered art itself or better yet the joy of acquiring it at a fair. Art dealers commonly remark on a fair being useful if it has facilitated them in 'discovering' new clients. For those art world professionals who circle these events, they perhaps view an art fair as useful if it assists them in 'discovering' new connections that could pave the way for collaborations or access to other circles of influence. 
There is little doubt that the inaugural RMB Latitudes Art Fair delivered on all these forms of 'discovery' what with new dealers, new artists and some new audiences converging on Shepstone Gardens.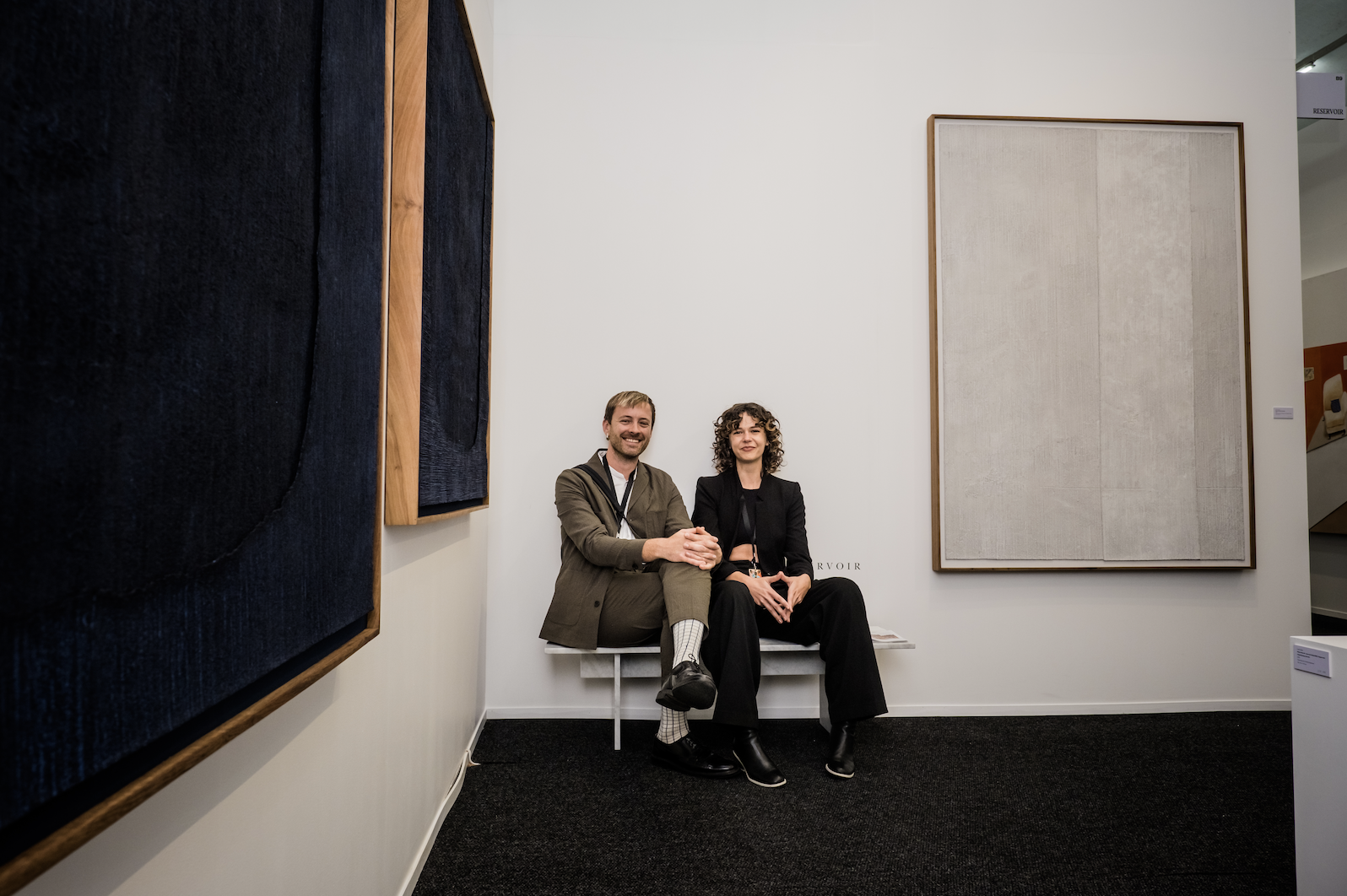 Reservoir's booth at RMB Latitudes 2023 with co-founders Heinrich Groenewald and Shona van der Merwe, photography by Alexander Smith
This rambling setting with interlocking gardens, from which staircases and pathways led visitors to different venues, bars or patios, literally delivered on this notion of 'discovery.' Visitors seemed to delight in wandering off into a secret garden to discover a fountain, while some adventurous types headed up the steep staircase to the summit, returning with news of sightings of live chickens. Some people bought tickets to the fair – with the sole purpose of wandering through the lovely gardens, only to discover that art could be equally fascinating. 
We might associate Joburg with grime and crime, but in truth, Shepstone Gardens proved to be the quintessential venue for a Joburg experience. What makes Joburg such a compelling destination is the fact that it is defined by contrasting pockets of influence, luxury and natural beauty that exist in parallel to urban degradation. These diverse strands have historically lived side-by-side. As such attending an art fair in a lush garden dotted with buildings inspired by ancient European cultures that is a stone's throw from the gritty urban environment on Louis Botha Avenue that is dotted with car part shops, all-day shebeens and empty boarded up shops in Orange Grove made for a truly Joburg affair. Parachuting into this bucolic idyll via an Uber or shuttle to view art and knock back wine from Franschhoek all made sense.
Almost everyone seemed to revel in attending an art fair in a setting that boasted its own character, rather than circling a sterile neon-lit convention centre hall, which has become the conventional setting for the more established art fairs in South Africa. How does this impact on sales? In a convention centre, where there is typically nowhere nice to hang out or linger or any architecture or views of any kind competing with the art – you are a captured audience. The art is the focus. Does this better facilitate sales? Perhaps. Does it make for a memorable experience? Not really. Typically, you leave an art fair exhausted by what could be described as a visual assault – and you have to flick through your phone to remind yourself what you saw and liked. It's all a blur.
RMB Latitudes 2023, glass marquee and gardens, photography by Alexander Smith
At the RMB Latitudes Art Fair – this was not the case – for a variety of reasons. You felt less pressured to 'get through' the fair – as you were not confronted by rows of booths to conquer by foot. Each discrete venue was fairly modest in size – even the 'centre court' - the large marquee. In between the venues were spaces to relax or wander about, so you could take in the fair in considered bites. This also meant that your impressions of the art fair weren't reliant on the quality of the art, which sometimes worked in favour of the organisers, particularly given that some dealers were not well-established or were selling works by unknown artists. 
In this vein, the fair offered many 'discoveries' – new talents, new dealers, some of whom have emerged since Covid 19. This includes Jillian Ross Print, Origin Art, Martin Projects, Reservoir, Usurpa and Eleven Editions. The Cape Town curator duo Reservoir, who have solidified a reputation for tightly curated shows with promising new artists - made their Joburg debut with Belle Knemeyer and Justin Brett. The booth stood out among most others – due to the quality of the work, the abstract languages defining both artists' practices but also the influence and ingenuity in the manipulation of their chosen materials. These characteristics echoed in the clay works by Nindya Bucktowar at the KZNSA Gallery booth, Wessel Van Huysteen's collaged textile works at Gallery 2 and Ange Dakouo's In my Dreams, a large hanging yellow-toned work fashioned from cardboard, papers and other disused materials, that showed at the Goodman Gallery.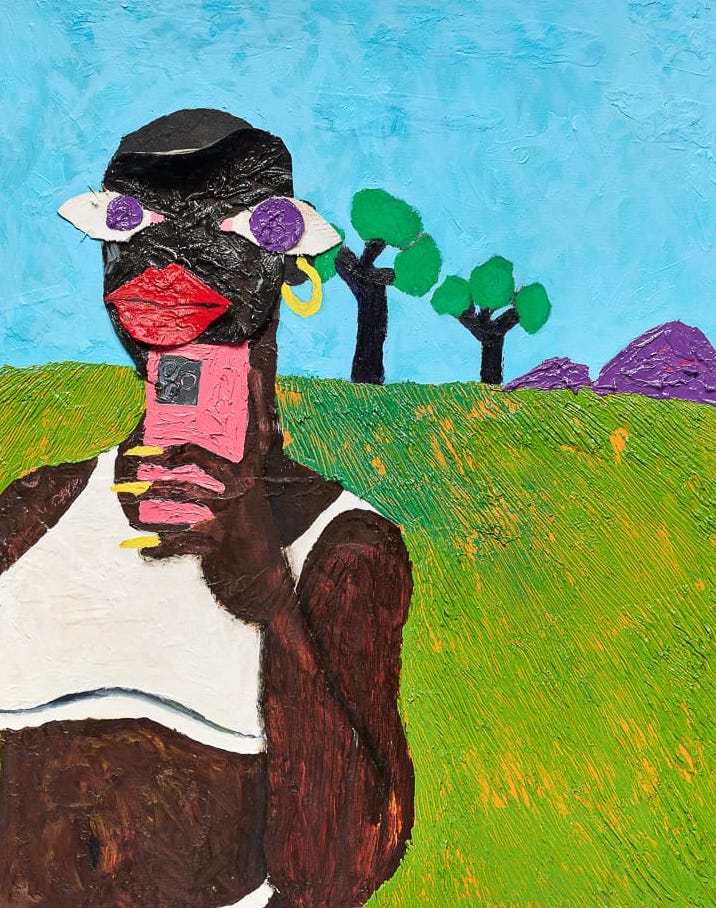 Lwando Dlamini, KENYA, 2023, price on request, presented by Martin Projects, CONTACT TO BUY
Expectedly, painted portraits dominated in terms of genre – particularly at booths such as Artco, Christopher Moller, Eclectica Contemporary, Deal Galeria and Martin Projects, which took a risk with a booth dedicated to impasto portraits by Lwando Dlamini. One notable feature of some of the portraits is the proliferation of 'featureless' faces. Akilah Watts, showing at The Melrose Gallery, supplanted the body, the face of the subjects with tropical fruit prints, while Selloane Moeti opted to apply red clay to her female subjects' featureless faces. Azuka Muoh uses luxury car tyres in place of faces. Osara Obaseki, the Nigerian artist also obscures the faces of her female subjects in her bronze busts but also in some of her paintings, where she does so with the use of flowers.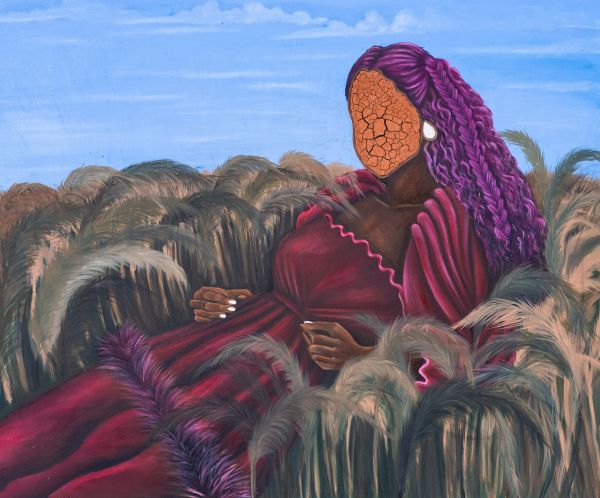 Selloane Moeti, "Uthe ubaba asimulinde la", R 42,652.17 ex. VAT, presented by KZNSA gallery, CONTACT TO BUY
"By depicting faces as flora, I hope to emphasize the astonishing diversity of human existence as well as our inherent kinship with other living species, particularly plants. This illustrates the idea that like humans, plants have diverse set traits, tones and growth patterns," suggested the artist via an email interview.  
She further claimed that this device also allowed viewers to more easily connect to her subjects. 
"My work evokes a sense of universality through the purposeful concealing of specific traits. This encourages viewers to transfer their own feelings and experiences onto the artwork, thereby producing a personal conversation between the observer and the work's evocative aspect," she added. 
However, she is also driven to do this to draw attention to how identity is negotiated in society. She suggests that individualism has determined our culture and eroded societal values. 
Given it is the first fair of this kind and Latitudes has evolved since its inaugural fair in 2019, dealers were perhaps uncertain about what kind of artworks to present. With RMB, the primary sponsor, having previously been associated with the Turbine Art Fair, and the Latitudes Online platform largely catering to independent artists, this may have fed into the idea of this fair as being a showcase for emerging, new talent. In line with this Goodman Gallery opted to show Dakouo and Smac Gallery also presented work by an unknown artist – Baba Tjeko, who presented female portraits that echoed a paint-by-numbers mode. Smac also brought smaller works and unexpectedly, a painting by Mary Sibande – more recently known for her sculptures or installations.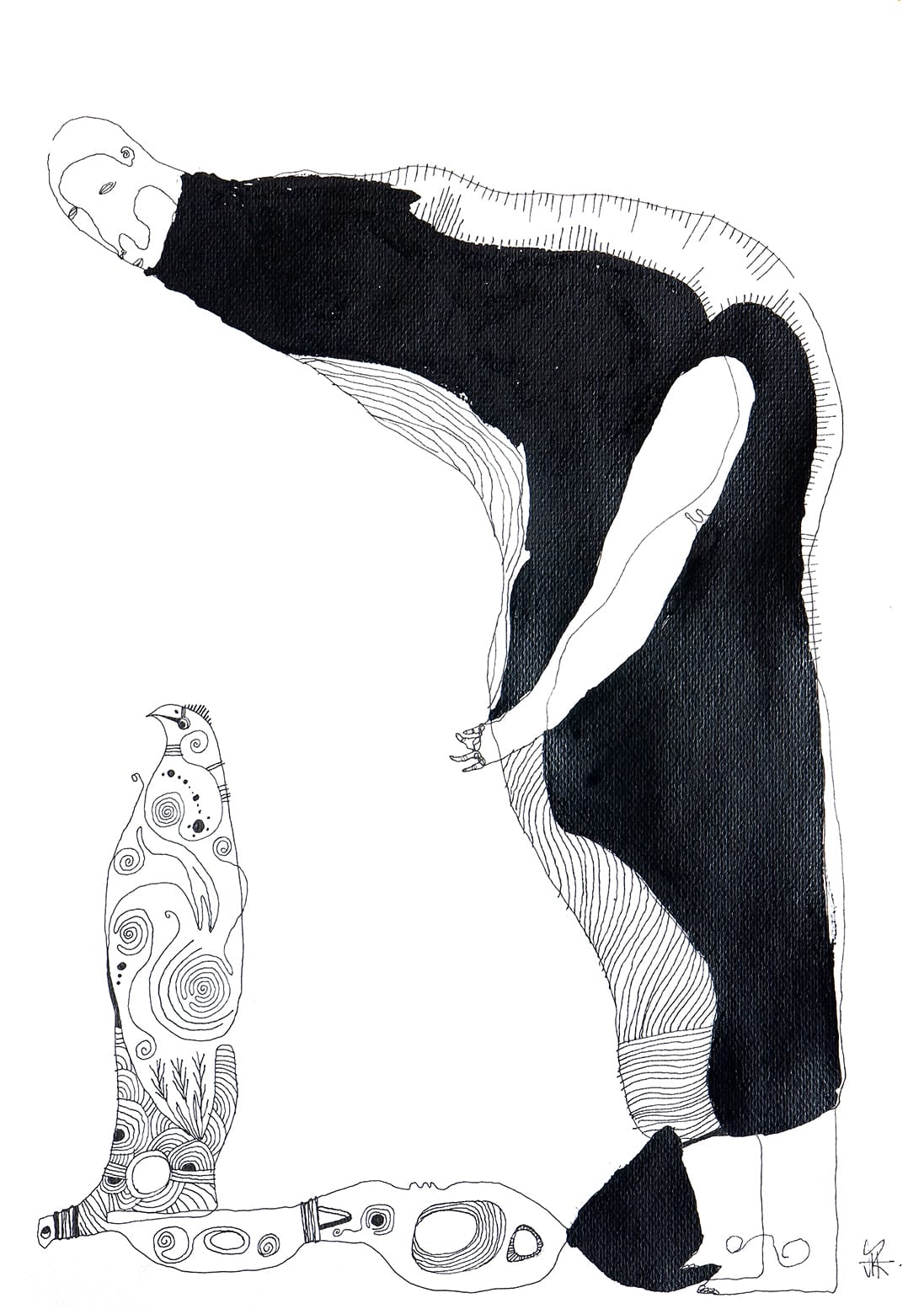 Isheanesu Dondo, Man with a Hawk, 2023, price on request, presented by Guns & Rain, CONTACT TO BUY
In short, the content of the fair was not predictable – galleries such as Guns & Rain, Everard Read and Melrose didn't present works by their most prized or well-known artists. This guaranteed a refreshing fair, though of course, inevitably editioned works by the country's top-selling artist William Kentridge were dotted throughout the fair popping up at Jillian Ross Print and Artist Press. Goodman Gallery, which represents Kentridge, naturally also presented a few of his works along with some other acclaimed artists such as Sue Williamson. A South African art fair is not a fair without a few Kentridges turning up in some of the booths and perhaps Kentridge himself. 
With tickets selling out there certainly was a sense in the air that this was a must-do event, which is extraordinary given it was the inaugural one. More than likely the buzz from the two – yes two – VIP opening nights was probably driving the demand and interest and as always Jobugers love nothing more than an event that is just beyond their reach. 
Satisfyingly, the buzz spilled out of the fair, not only onto the appropriately titled Hope Street on which the venue is located but into the Open Studios Joburg event, which was also well attended and offered studio visits with many of the artists whose work was on at the fair. With the Kingsmead Books Festival and the Word Festival at Nirox all taking place at the same time as the RMB Latitudes Art Fair, Joburg felt like the country's cultural hub, the city to be at in the end of May. Next year, everyone will plan accordingly and buy their tickets in advance. 
Corrigall is a Cape Town based commentator, advisor and independent researcher.

Balekane Legoabe, pool, 2023, R 3,770.00 ex. VAT, presented by Eleven Editions, CONTACT TO BUY